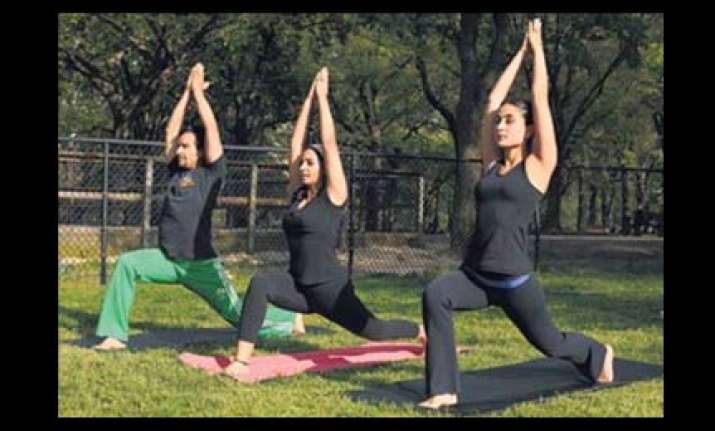 Bollywood lovebirds Kareena Kapoor and Saif Ali Khan are now doing yoga together. The actress has been doing yoga with Payal Gidwani for over five years, while her beau started learning a year ago. All along they performed the asanas separately with their trainers, but now they are together doing a form of yoga called Yin Yang Yoga or Partner Yoga, says a media report.
 Says a source, "The star couple start the next schedule of Agent Vinod in Europe this week. While he left for Latvia (Russia) last night, she leaves tonight with Manish Tiwari (married to Bebo's trainer Payal) who is their personal trainer.
Kareena and Saif  have been practicing Partner Yoga for the last few months with Manish, who is now travelling with them to ensure they keep up their routine. Payal, who accompanies the actress everywhere, is busy with the yoga and wellness center run by her and hubby.
It was Payal who told the Kapoor girl about Partner Yoga sessions and how they benefited couples and made their relationship stronger.
 Bebo then convinced Saif to try it and it was only a matter of time before he was hooked. Adds an insider, "He has tried yoga but he's more of a gym person and wasn't doing it too wholeheartedly. It was only when Bebo told him about the importance of doing yoga together through Partner Yoga that Saif took it seriously."
Manish says, "The Cosmic Fusion Partner Yoga sessions are available for partners who wish to grow together spiritually, and explore patterns and goals within their relationship. These are tailor-made yoga sessions. And it enables in deepening a connection with your partner."
How is Partner Yoga beneficial for couples? Tiwari says, "It enables in creating harmony and balance between a couple and increasing a greater understanding of one another therefore adding to the harmony of a relationship. Kareena and Saif practise for an hour and fifteen minutes. This form of yoga is tailormade for couples."