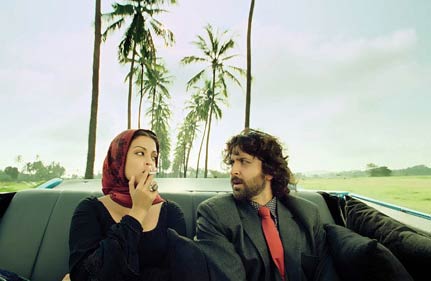 Panaji, Nov 16: Sanjay Leela Bhansali's 'Guzaarish' has run into controversy ahead of its release, with National Organisation for Tobacco Eradication (NOTE) taking objection to film posters displayed across Mumbai, showing actress Aishwarya Rai Bachchan smoking a cigarette.
The anti-tobacco NGO, has threatened to issue a legal notice against Aishwarya and the producer-director.
"The innumerable posters and banners of film 'Guzaarish' displayed all over Mumbai shows Bollywood icon Aishwarya Rai smoking a cigarette. There would be scores of other scenes which could be displayed to convey the storyline of the film. Yet the producer has chosen this particular one, quiet oblivious to its after effect," NOTE India General Secretary Dr Shekhar Salkar told PTI.
Salkar, who in past had dragged Amitabh Bachchan to High Court for similar offence during the promotion of 'Family', said a legal notice would be issued against Aishwarya and producer Sanjay Leela Bhansali by Wednesday.
The NGO has demanded withdrawl of posters showing smoking scenes from the publicity campaign of the movie, scheduled to release next week.
He said, "the display of posters showing Aishwarya smoking raises worries in our mind that such depictions could be trend-setter."
Salkar, a practising Cancer surgeon, said that NOTE firmly believes that there is unscrupulous and callous use of film stars, who are considered as icons and even deities by their millions of fans, to propagate smoking. PTI