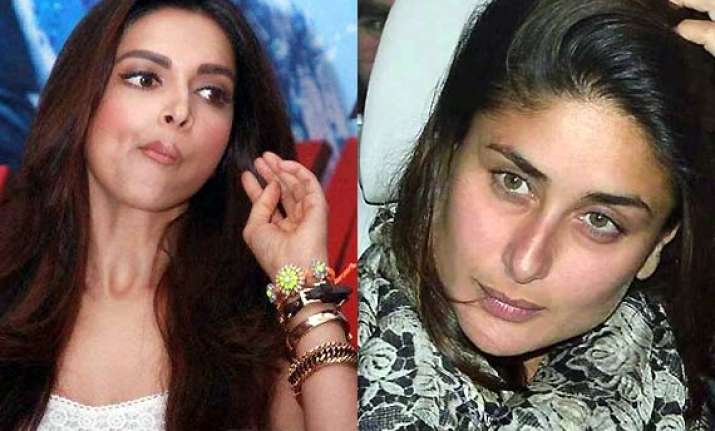 New Delhi: Bollywood diva Deepika Padukone seems to have not gotten over Kareena Kapoor yet.
Guess Deepika is still wounded with Kareena's 'charity' remarks and doesn't intend to let the latter do away with it so easily. Watch out Kareena!
Recently during an interview to a leading daily, the sexy dusky beauty revealed how she blindly trusts both her mentors
Shah Rukh Khan
and Farah Khan with her career choices saying "I know they will always carve out the best role for her.
Deepika who has been rumoured to have left 'Shuddhi' for Sanjay Leela Bhansali's 'Bajirao Mastani', was a bit amused as she said, "I was not offered Shuddhi. I did not leave any film for Bajirao Mastani."
But how could she not take a dig on Kareena who she believes, she must learn some 'charity' intentions from.
Adding to it she said, "It's silly when actors talk about films they didn't do because they are remembered for the ones they did." (on being questioned about Ashutosh Gowariker's Mohenjo-Daro opposite Hrithik Roshan).
Speaking on matters close to her heart, Deepika during the interview was quiet outspoken about her rumoured relationship with beau
Ranveer Singh
saying, "Every relationship needs time, you need to nurture it. There's no point talking about something when you're not sure what you want from it."
Deepika who seem to be involved in a never ending spat with other B'wood divas
Sonam Kapoor
and Kareena Kapoor also expressed how she feels pity of those who have time to shift focus from their work.
On being asked about what she felt about Sonam's comment over her styling and PR team on
Karan Johar
's chat show 'Koffee with Karan', the dimple beauty was quick in response saying, "It doesn't surprise me. Sonam is entitled to her opinion. Yes, I have a set of professionals to look after me whom I trust. So what? My job is just to act."
Deepika who's Bollywood's current leading lass has two big upcoming projects this year, Homi Adajanai's 'Finding Fanny' and Farah Khan's 'Happy New Year'.
So what do you think, will Kareena leave it or will snub Deepika?