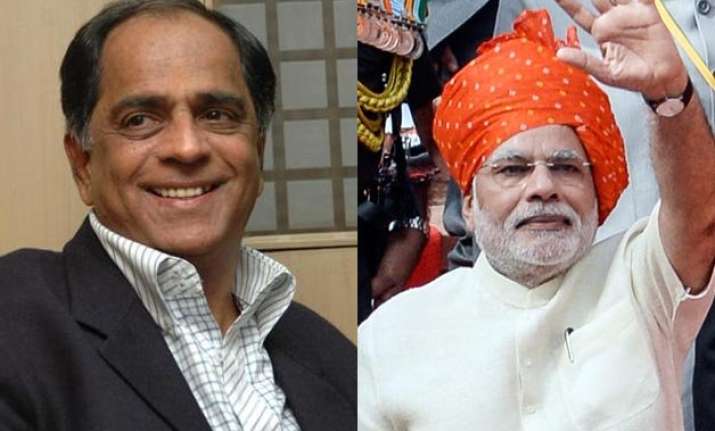 New Delhi: In yet another proof of his admiration for Prime Minister Narendra Modi, the Central Board of Film Certification chief Pahlaj Nihalani has composed a song praising him. The song whose trailer is already available on YouTube is expected to be released soon.
 
Nihaliani had earlier recorded a song for the Lok Sabha campaign of Narendra Modi. His latest composition is titled "Mera desh hai mahaan, mere desh ke jawaan."
 
The song which is six minutes long talks about the Modi government's achievements of the past one year. Nihaliani has always been known to be vocal about his political thoughts and sees PM Modi as an action-hero.
 
"Har Har Modi", the song which became the anthem for BJP supporters during the Lok Sabha election campaign was also composed by him. This song can be seen as a sequel to the previous one having words as, "Har ghar pani, har ghar bijli". According to what the censor board chief told a leading newspaper, "He has brought the nation immense acclaim globally and made us proud. Through the song, the youth and people will know about his achievements."
 
Apart from highlighting the schemes and projects launched by PM Modi during his tenure, this song also mentions Mahatma Gandhi and PM Modi in the same verse. "Mera desh hai mahaan, mera desh hai jawan. Bharat ko sawachh banana hai. Jo sapna dekha Baapu Modi ne usse mil jul kar humein sach kar dikhana hai."
 
Pahlaj Nihaliani has invited lot of criticism for his moral policing and political leanings. Film critic Ajay Brahmatmaj called his acts 'sycophantic' and told the same newspaper, "In the olden days, the kings would have poets composing paeans to them. What we have now is the 21st century version of that sycophancy. But those poets also spoke about other social issues. Perhaps, Mr. Nihalani has some higher posts in mind."
 
Lashing back at his critics, Mr. Nahiliani said, "As a citizen, I have the full right to convey my feelings. I am one of the crores of citizens who voted Mr. Modi to power. And, mind you, I am also a producer."
 
The song is sure to garner more controversies after its release. For now, you can watch the song's teaser here.