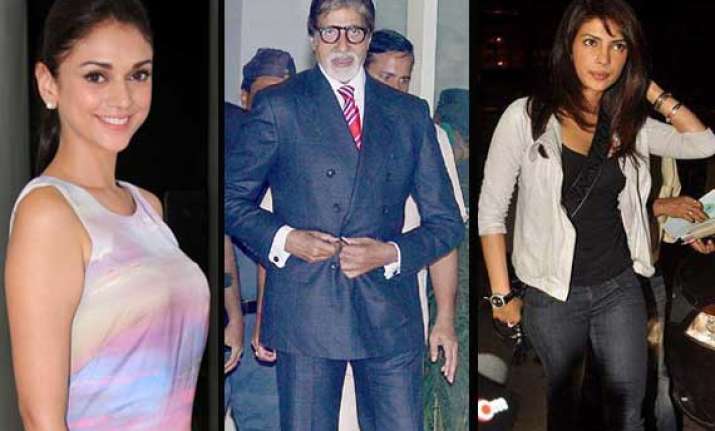 New Delhi: While Eid is celebrated around the globe, our Bollywood celebrities took on the social networking sites to wish their fans Eid Mubarak.
Take a look at what your favourite stars including Amitabh Bachchan,
Madhuri Dixit
, Priynka Chopra among other have to say about the auspicious occasion.
Amitabh Bachchan-  Eid Mubarrak to all ... peace and prosperity ever ..
Madhuri Dixit-Nene- Eid Mubaarak!!
Aditi Rao Hydari- EId Mubarak!!! Now go watch boss- my first film as eye candy- seetiyan bhi zaroori hain!!  ;)
Priyanka Chopra
- Eid Mubarak to everyone celebrating today..It's a time to reflect on how much life has given us..What we have and to be grateful for it all
Madhur Bhandarkar- May the divine blessings of Allah bring us hope, faith, peace,and joy forever on this auspicious occasion. Eid Mubarak.
Ameesha patel- Wishing all my tweethearts a v v happy eid mubarak...
Sophie Choudry- Eid Mubarak! Allah aap ki har dua qubool karein! Dua mein yaad rakna! Lots of love & peace to u all!
Farah Khan- God has 3 answers 4 our prayers..1.YES 2.Yes,but not now n 3.there's something better planned 4 you..EID mubarak 2 all..
Shreya Ghoshal- Sabko Eid ki dher saari mubarakbaad.:):)
Taran adarsh- Eid Mubarak.
Amrita arora- Eid Mubarakkkkkk!Smelling the awsome aroma,s of the yummy food that awaits us!!yummm.Love n peace to all.Keep spreading love 2day n always!
Soha ali khan- On board an early morning flight to Delhi.. Eid mubarak to all! Love and duas xx
Anupam Kher
- Eid Mubarak to All straight from Charminar. Love, Peace & Happiness Always.:)