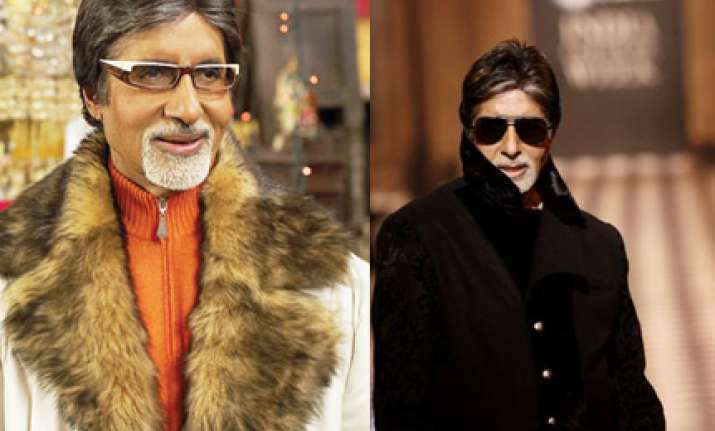 Mumbai, Oct 11: Basking in the National Award glory for his unconventional role in 'Paa', megastar Amitabh Bachchan, who turned 68 today, is still going strong and continues to be the busiest actor of his generation in the Hindi film industry.  
It has been a mixed year for the legendary actor, who is hosting the fourth edition of the popular quiz show 'Kaun Banega Crorepati' (KBC), which incidentally played a key role in reviving his flagging Bollywood career a decade ago. He was seen in different avatars in his latest releases even though the movies did not ring well at the box office.  
In 'Aladin', which released in October last year, he was seen as a genie; 'Teen Patti' featured him as a mathematics genius along with noted actor Ben Kingsley. His home production 'Paa', which saw him playing a child suffering from progeria causing pre-mature ageing, was a box office grosser. The film fetched Bachchan a national award this year.
It was on his 66th birthday in 2008 that there was a health alarm when Big B was hospitalised due to abdominal pain and had to be operated following which he did not sign any new film in the last one year and only hosted season three of hit reality show 'Bigg Boss' for Colors.  
This year, the legendary actor is back facing cameras for Rajkumar Santoshi's 'Power' with Sanjay Dutt, Ajay Devgn and
Anil Kapoor
. Besides, he is also back on small screen as the host of 'KBC' on Sony. The channel is hosting a party for Bachchan tonight with the first episode going on air.  
Bachchan began shooting for 'Power' in Mumbai early this month. He recently completed a Malayalam movie 'Kandahar' based on the 1999 Indian airlines plane hijack episode, with southern superstar Mohan Lal. The veteran actor had said on his blog that he had shot a scene where he had to say Malayalam dialogues in one take.  
Apart from 'Power', Bachchan is also part of Telugu filmmaker Puri Jagannath's 'Budda' and Prakash Jha's 'Arakshan'.  
Sources close to the actor said he has taken a day off from shooting and will spend his birthday with family including daughter Shweta Nanda and grandchildren Navya Naveli and Agastya who have flown down from Delhi. As is the case every year, fans from all over India have gathered outside Bachchan's bungalow 'Jalsa' in suburban Mumbai to catch a glimpse of the megastar since morning.
Despite being busy with films and television, Big B was also active in promoting cricket and tourism. He was appointed brand ambassador of Twenty20 Champions League held in South Africa in September. Braving criticism from some quarters, Bachchan also went ahead to become tourism brand ambassador of BJP-ruled Gujarat.  
Penning thoughts on his blog, Bachchan today thanked his fans for standing by him and said, "It has been a long trip, but hope and pray, one that has been, scattered along the boundary. Easily identifiable and quick to take command on."  
"I think I have remained myself despite myself - weak, uncertain, hesitant, incomprehensible, indecisive. This myth of power and greatness, abundance and position, connection and elevation, has been and shall always be a realm, that I am not familiar with and one that I do not have any desire to acquire familiarity with either," he wrote.  
"If perception is that rules the mind then I cannot stop or bring correction to those that are in charge of opinion. I must remain honest and sincere to what I was born with, not allowing any pollution to destroy what I believe or wish to believe."  
"I am content in knowing what I am and what I want and what others want from me. I am content with what came my way, what disturbed me, what made me anxious and helpless and without motivation. And I wish no one has ever to go through the ordeal that most fear; that of being misunderstood," Bachchan further wrote. He said his family had wished him with flowers and cards and thanked all his fans and admirers.  
"To all that have sent me birthday wishes my sincere gratitude and love... I can give nothing else in return but that... and more of that," the actor said in reply to birthday wishes on Twitter. PTI