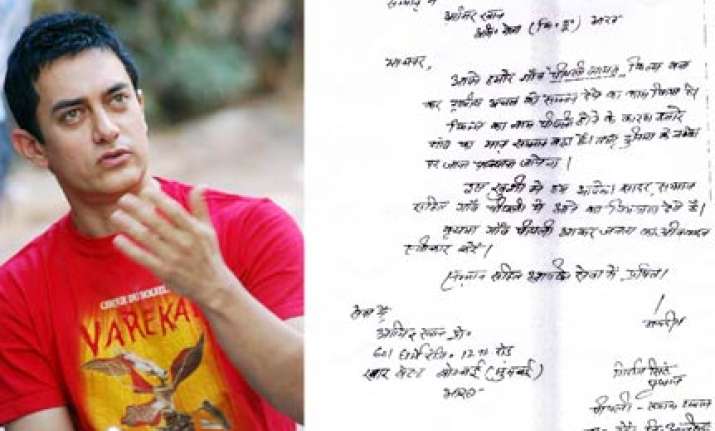 The situation in a small village called Peepli on the border of Uttar Pradesh and Haryana is tense, after the Aligarh district police disallowed Bollywood star Aamir Khan from visiting  the village.  
Ever since teaser advertisements of  Aamir Khan's latest offering, Peepli Live, started being beamed on TV, land prices in this village  farmland have started going up. The village's only claim to borrowed fame is that it is also called Peepli.
In the last one month, inquiries for the purchase of farmlands have gone up, said sarpanch Giriraj Singh. The sarpanch recently invited Aamir to visit the village so that the villagers could thank him for making the village famous.  
Aamir Khan finally  decided to visit Peepli on Thursday (August 12).  He even faxed a letter to  Aligarh SP seeking security to visit the village. The Aligarh SSP Vijay Prakash in his reply politely declined to provide security to the actor saying that the police force of the district was busy elsewhere.
Meanwhile,  a farmer's agitation erupted in Tappal village, close to Peepli. The situation in Tappal, is highly volatile. The farmers in the village are protesting against the authorities. The protest is being done to stop the sale of their land at extremely low prices, which they feel is unfair.  
Aamir Khan finally decided not to visit Peepli village because of the tension in the area. Meanwhile,  Aligarh police has also faxed a letter to Khar Police station. The letter is detailed and advises againt Aamir Khan traveling to the region. The Khar police in turn, approached Aamir Khan's house as well as his office to inform him of the letter and the situation.
The letter states that Mr. Aamir Khan should not travel to Peepli village,as there are chances that a huge crowd can gather there, because of Aamir Khan's popularity in the region. But as the situation is Tappal was grave, the police force has been posted in other areas.