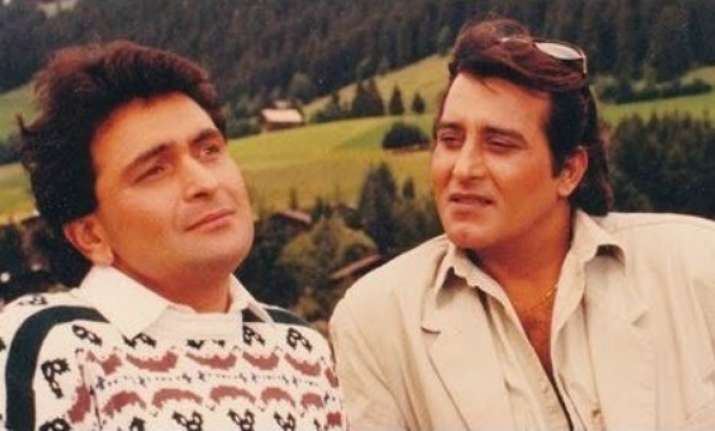 After the sad demise of the veteran actor, Vinod Khanna, Twitter has been flooded with condolences from all around the film industry. The actor was reportedly suffering from cancer from past few years. The whole film fraternity laments the death of this legendary actor with their tweets and messages. 
Amid the showering condolences, we stumbled upon Rishi Kapoor's official Twitter handle. The actor is visibly disturbed by his friend's and co-actor's demise. The 'Chandni' actor couldn't contain his emotions and poured his heart out on Twitter. 
Rishi Kapoor changed his Twitter profile picture to a smiling picture of the deceased actor, Vinod Khanna. Not only this, he also changed his Twitter bio to a heartfelt message for the departed soul. Here's what the actor wrote: 
Good Bye Vinod Khanna, RIP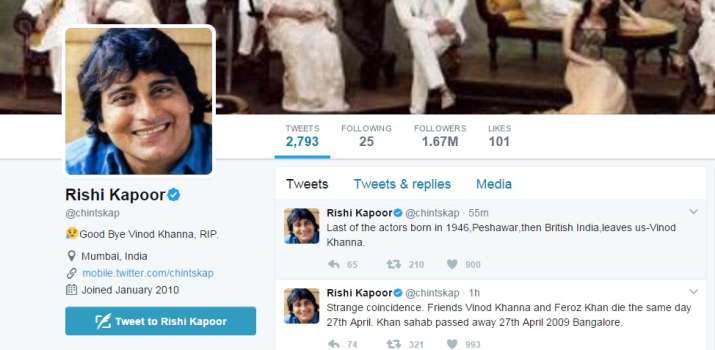 Rishi Kapoor gets emotional, pours his heart out on Twitter
Since past few hours, he has been posting a series of tweets expressing his grief over his comrade's death. On the unfortunate day, Rishi Kapoor got nostalgic and reminisce the days he spent with Vinod Khanna on the sets of films they did together. He even thanked Khanna for always being a friend to him. 
Remembering the good times with you,Vinod. Thank you for being my friend. pic.twitter.com/hvZoYeQMEF

— Rishi Kapoor (@chintskap) April 27, 2017
While contemplating over the incident, Rishi Kapoor also struck a strange coincidence between the death of another friend and co-actor Feroz Khan. Feroz Khan passed away back in 2009 on the same date, that is, 27th April. 
Strange coincidence. Friends Vinod Khanna and Feroz Khan die the same day 27th April. Khan sahab passed away 27th April 2009 Bangalore.

— Rishi Kapoor (@chintskap) April 27, 2017
Last of the actors born in 1946,Peshawar,then British India,leaves us-Vinod Khanna.

— Rishi Kapoor (@chintskap) April 27, 2017
Rishi Kapoor and Vinod Khanna shared the screen space several times. They did Eena Meena Deeka (1994), Tell Me O Khuda (2011), Chandni (1989) and Amar Akbar Anthony (1977). 
Also Read: 
Vinod Khanna passes away: Rajinikanth, Karan Johar, Anushka and the whole film fraternity express their grief
Remembering Vinod Khanna: A glimpse at the veteran actor's life