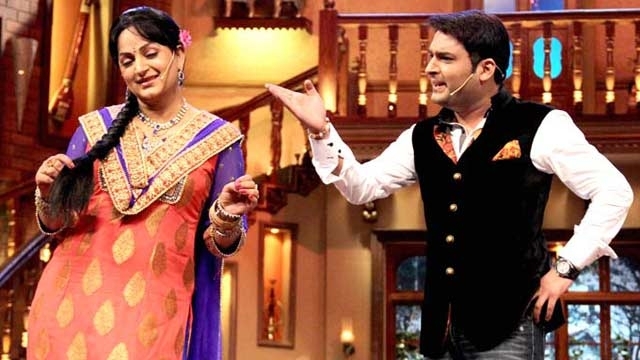 New Delhi: Post comedian-turned-actor Kapil Sharma's controversial fallout with Colors channel, his team made it to the headlines a few months ago when the entire on-screen family of Kapil moved to Sony for 'The Kapil Sharma Show'.
The only member of the crazy small screen family who decided to stay put with Colors was Bua, played by Upasna Singh. But, looks like the '22 year old hot and sexy bua' finally decided to come back to Kapil.
Upasna Singh has joined 'The Kapil Sharma Show' and will soon be with the team. The show's creative director Preeti Simoes announced this on micro-blogging website Twitter.
Speaking about joining 'The Kapil Sharma Show' Upasna told a leading entertainment portal,
"Yes, I have started shooting with the team. I can't tell you how happy I am. It is like coming back home. When I walked in, they rushed to me. There were hugs all around. I felt so loved and wanted. The team is highly professional. Everything is written in advance and I get time to prepare well. I will be coming on air in the Sunday episode. There was no sense of discomfort, everyone made me feel so welcome. The Kapil Sharma Show has genuine comedy."
While the rest of the members showed their allegiance to Kapil and left Colors as soon as 'Comedy Nights With Kapil' saw an abrupt end, Upasna did not. It was reported that the actress stayed with Colors because she was being paid more by the channel. In fact, Kapil at the launch of TKSS had said that Upasna has a longer contract with Colors and also it was her choice.
After CNWK, Upasna was seen on Comedy Nights Live, the rival show of Kapil hosted by actor Krushna Abhishek. But a few weeks ago she quit that too and also said that being a part of that show was the worst decision she could have taken,
"First of all there was no work satisfaction. I haven't worked in such a pathetic show before. On some occasions, I could not believe it was a comedy show because the script was so bad. Secondly, they did not fulfill a single commitment,"
Upasna had said when asked about why she quit CNL.
Seems being upset with CNL is what pushed Upasna to be back to Kapil Sharma and his on screen family. One can surely expect more laugh riots on the show.