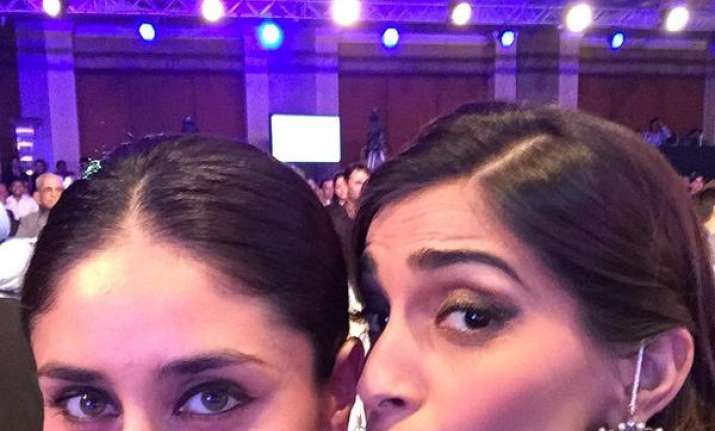 Actresses Kareena Kapoor Khan and Sonam Kapoor who are lately seen spending a great deal of time together may treat their fans soon. A report in a leading daily said that the two have been roped in for an episode of filmmaker Karan Johar's chat show. It is being said that for 'Koffee With Karan 5' the two divas will shoot between October 27 and 29.
Since Kareena and Sonam came on board for Rhea Kapoor's 'Veere Di Wedding', they have become the news BFFs of tinselvile. The two have recently spoken highly about each other. While most of the appearances of Sonam and Bebo, have been in private parties this will be first time that they sit down to get all chatty with KJo.
Obviously, the episode will have tons of entertainment due to many reasons.
For one, Sonam and Kareena are not known to mince their words. So they will spill many secrets about Bollywood on the show and might even spark controversies. The famous rapid fire round would be full of jaw-dropping answers. In fact, the two may speak about sexism in Bollywood too. Sonam recently revealed how the chick-flick 'Veere Di Wedding' did not get the desired budget leading to her and Bebo cutting their fees.
Secondly, the two divas are close friends with Karan Johar. So it won't be wrong to expect that they would pull the filmmaker's legs giving everyone a reason to laugh.
Lastly but nevertheless the least, the fashion quotient of this episode will be way too high. While Sonam has established herself as 'First Lady Of Fashion' in Bollywood, Kareena has been slaying in her pregnancy looks. So it will be worth seeing what these divas choose to don on the show.
Meanwhile, Kareena is in her last trimester with her delivery in December. Sonam on the other hand is prepping for 'Veere Di Wedding'.