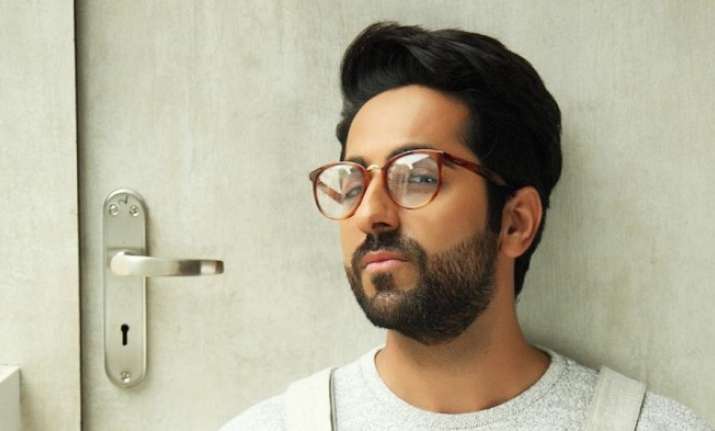 Ayushmann Khurrana- the actor who once again proved he's here to stay with his latest film Shubh Mangal Saavdhan. While watching the film, we're reminded how spotlessly he portrayed the role of a sperm donor in Vicky donor. Yet again, it is established that Ayushmann Khurrana is the face of new age cinema, with films of the varied genre in his kitty. Being a typecast was never his cup of tea, this is proved by the type of film the actor signs. In Dum Laga Ke Haisha, he plays a timid boy lacking even a single drop of self-confidence, while in Bareilly Ki Barfi, he's a stunner as a writer. And who could forget his role as Abhimanyu Roy aka Bubla in an otherwise forgetful movie Meri Pyaari Bindu. 
From sperm donation to erectile dysfunction, Ayushmann Khurrana has become the poster boy of the unconventional films. The actor feels no fear of being typecast in a certain genre, but believes in redefining the image of 'hero in Bollywood films.
Also Read: Baadshaho vs. Shubh Mangal Saavdhan: Read how much these 2 Bollywood films earned in 2 days
Ayushmann is known for acting in films that make statements or send out social messages.
Asked if he is bothered about his image of playing boy-next-door characters who deal with practical problems of a middle-class lifestyle, Ayushmann told IANS: "No, I do not think so... Isn't it more heroic that I can connect and reach out to the audience with a topic that others might fear to narrate?"
"I think you have to be really secure as a man to play a character like Mudit (in 'Shubh Mangal Saavdhan') who is still loved by his girlfriend despite going through a problem (erectile dysfunction)."
Ayushmann, who has featured in films like "Nautanki Saala", "Dum Laga Ke Haisha", "Meri Pyaari Bindu" and the latest "Bareilly Ki Barfi", said he wants to play characters that are larger than life.
Shubh Mangal Saavdhan Movie Review: RS Prasanna Clearly Signifies That Not Talking About ED Is A Dysfunction In Itself
"Like that of A-list stars or heroes in commercial cinema do... In fact, with Sriram Raghavan's upcoming film, I am changing my gear to a dark character that I always wanted to play. I can do different characters, but with the right script and right director," he added.
For Ayushmann, playing a man with erectile dysfunction was an interesting process as there was no reference point to it.
"Since I donated sperms in real life, I had a reference point when I acted in 'Vicky Donor'. But this (erectile dysfunction) is one of those problems that people do not talk about."
"I do not know if any of my friends or acquaintance are dealing with this issue. So, I had no reference point to play the character. That was quite an interesting process," said the actor.
Also Read: Shubh Mangal Saavdhan: Ayushmann Khurrana and Bhumi Pednekar win hearts on Twitter with their performances
"Men feel uncomfortable to talk or deal with such problem because of the mental conditioning. When it comes to boys' talk, they proudly talk about how many girls are they dating at the same time, how many times are they doing the act, etc.... They find pride in it because we are living in a particular society." 
Ayushmann Khurrana recently featured in Shubh Mangal Saavdhan which was based on erectile dysfunction. He was paired opposite Bhumi Pednekar in this RS Prasanna film. The movie released on 1st September 2017. 
(With IANS Inputs) 
For more entertainment news and updates, follow our Facebook page