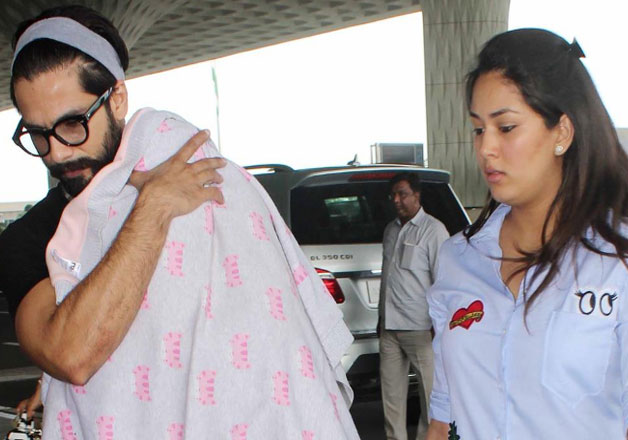 Actor Shahid Kapoor hs recently entered fatherhood and has over the moon post the arrival of his daughter Misha. The actor is leaving no stone unturned to be the best father to his princess.
However, there is one thing he is making sure about his journey of fatherhood. Shahid has admitted that he doesn't want to have his father Pankaj Kapur's hyper traits.
Sasha, who shares a great bond with his father, admitted that Pankaj is a bit hyper and over protective and this is what he doesn't want to do with his daughter.
The  'Udta Punjab' actor during his recent interview got candid about his father and said, "There are things about him that I think are amazing, there are things about him that I don't want to be like that with my child".
However, Shahid also sang praises for hid dad and averred that Pankaj had been a great friend to him. He also said that to some extent he would like to have a bond with Misha like he has with dad.
On being quizzed about the piece of advice daddy Pankaj gave to his son before her stepped into fatherhood, Shahid said, "Actually more than a piece of advice: what my dad told me was that 'Now, you will know all the complaints that I have always had against you'."

 

 Shahid stated that the veteran often complains about not spending much time with him or not calling him everyday. Though Shahid does make a call to his father on daily basis, but Pankaj still complaints about not being able to connect enough with his son.
 "Finally when obviously Misha happened, he told me, 'Now you will know what it's like when you miss your child'", Shahid added.

On the work front, Shahid Kapoor will be next seen in Vishal Bhardwaj's 'Rangoon' also starring Kangana Ranaut and Saif Ali Khan. The movie is scheduled to release in February next year.
Besides, the actor has been roped in for Sanjay Leela Bhansali's periodical drama 'Padmavati' opposite Deepika Padukone. While he will portray the role of Deepika's onscreen husband, 'Padmavati'  will also feature Ranveer Singh as the main antagonist Allauddin Khilji.
(With IANS Inputs)