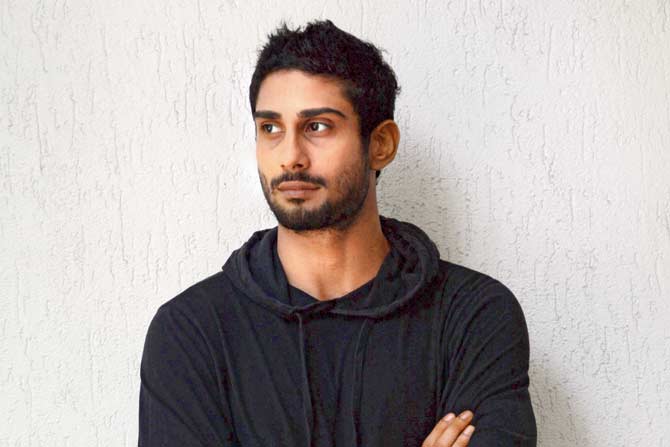 Prateik Babbar is ready to make his debut on the big screen in the Eastern India with Saurav Chakraborty's Bengali socio-political drama 'Aroni Takhon'. 
The film, which is based on a 1994 novel 'Kamor' by Sarbani Mukhopadhyay, revolves around a love story between the time the Babri Masjid was demolished (1992) and Gujarat riots ( 2002).
The 30-year-old actor essays the role of a notorious rich kid, who's a drug addict, but turns over a new leaf for the love of his life who he eventually sacrifices to another man.
Director Chakraborty said, "This is the first time a Bengali film is made for world cinema and this film is travelling to 4 continents and 35 cities. This is proper theatrical with Arabic, Spanish, French, Hindi and English subtitles. We are looking at taking the film to international film festivals."
"This film should not be viewed from any communal or regional aspect. Our aim is to portray the effects of these kinds of macro events on a micro level. How these incidents directly or indirectly enter your home, affect your day to day life, knowingly or unknowingly," he added.
The 'Ekk Deewana Tha' star revealed, "My parents have done Bengali cinema and Bengali cinema has an old world charm. It was a feel good factor really and I wanted to experiment with a new genre of cinema. Going forward I would love to do more Bengali cinema."
"During the filming phase I was heavily into substance usage and this is the first time I got a perspective on how it was important to say no to drugs. I wanted to turn over a new leaf and the journey of self realization started on the sets of this film which finally led up to me going clean. In fact, I stayed away from doing any substance on sets as I had to mentally and physically train for the role and get into the skin of my character," he added.
Prateik continued, "Another lesson I learnt on sets was how love is the biggest sacrifice and I could relate very well to that situation since in my life I have also changed for love and sacrificed people who have meant the world to me and finally made peace with loss"
The music of this film is inspired by Rabindranth Tagore poetry with songs that have been sung by eminent singers like Anupam Roy, Soumitra Chatterjee, Sohini Mukhopadhyay, Mohan Singh, Kaushiki Chakraborty, Indraneil, Dipannwati. Anupam Roy has composed 'Ekbaar Phirte Dao' with Gujarati Kathiawari folk music.
Talking about the music, the music director Raja Narayan Deb said, "The album has an eclectic mix of modern songs, Rabindra Sangeet along with poetic ensembles which interlinks the story of the film. The songs reflect the Bengali way of life with a lot of Indian classical music and at the same-time flavours of western classical elements were added it. It is more rooted and has a worldly sound to it. It is the first time that I am doing music for any of Prateik's movie and despite not knowing the language has brought in a different dimension to the film with his class act and interpretation of a very complex role."
The film, which stars Paoli Dam opposite Prateik and also has Indraneil Sengupta and Soumitra Chatterjee in pivotal roles, will hit the theatres globally on April 14 and in India on June 2.
(ANI)