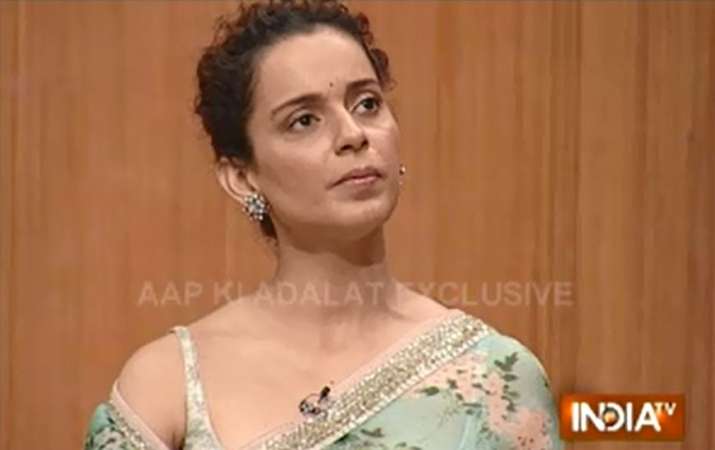 Kanagana Ranaut is that feisty 'Queen' of Bollywood who lives life on her own terms. She prefers role with substance and holds the power to make any film a success with her star power. Her dynamism is unbeatable and spark unmatchable. She is one of those actress who is a crowd puller. She is vocal and is known for not mincing her words and because of this she often finds herself mired in controversies.
From nepotism rant to infamous silly ex and Adhyayan Suman issue, she has stood tall and strong with backing of her fans. The Simran actress who is all set to appear on India TV's Aap Ki Adalat opens up about all her spats with people from film fraternity. She also exposes the dark reality of Bollywood and its biggies. Following the footsteps of Aamir Khan, Kangana Ranaut has also shunned award shows. Except National Award, Kanagana doesn't prefer going to commercial award shows and calls them 'fraud'. "Award functions are fraud. You too don't watch them," says  the National Award-winning actress as audience gives her a round of applause. She further adds, "It is all about groupism. When I don't attend popular award functions, around 50-60 organisers and giant media houses call and threaten to impose ban on me".
Vikas Bahl directed Queen marked turning point in Kangana's life who won several accolades for the 2013 comedy-drama. The movie bagged many awards and nominations for direction, acting, screenplay, etc.
In other promos of the show, the actress has poured her heart out about the ugly spat with Hrithik Roshan and has asked public apology from the 'Krrish' actor. To watch the full episode, stay tuned to India TV on Saturday at 10 pm.
Watch the telecast of Rajat Sharma's Aap Ki Adalat on India TV on Saturday, 10 pm; repeat telecast on Sunday 10 am and 10pm.