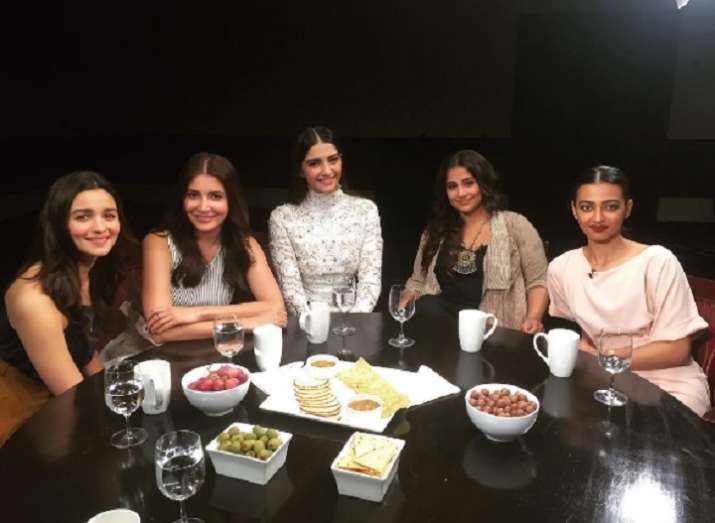 Actress Vidya Balan made a hilarious revelation about shooting an intimate sequence with actor Sanjay Dutt during an interview. Vidya said in course of filming Sanjay shut his eyes prompting the actress to think if she made him uncomfortable.
The 'Kahaani 2' actress was accompanied with leading Bollywood ladies namely Anushka Sharma, Alia Bhatt, Radhika Apte and Sonam Kapoor. These divas were being interviewed by renowned film journalist Rajeev Masand and were discussing the filming of intimate scenes.
It was then that Vidya revealed this detail about her experience with Sanju Baba and all of them burst into laughter.
Like Vidya, her fellow interviewees too had hilarious incidents to share. Sonam Kapoor said that her kiss with Abhay Deol didn't make it to one of their movies since the actor kept going back.
Revealing her funny incident, Radhika Apte said that she was supposed to shoot just one scene with a guy who was nervous. The 'Parched' actress added that her director asked her to go in a room with the guy to make him comfortable.
"I said, what?, told Radhika starting another round of laugher in the room.
Well, knowing what these actresses go through during filming of intimate scenes, one has to laud their dedication towards their work. They still manage to give perfect shots and awe viewers.
This discussion with Rajeev Masand was not all about laughs. It was at this conversation that Sonam revealed she was molested as a child.
The entire episode is yet to air but the promos confirm that we will come to know these ladies better after this.