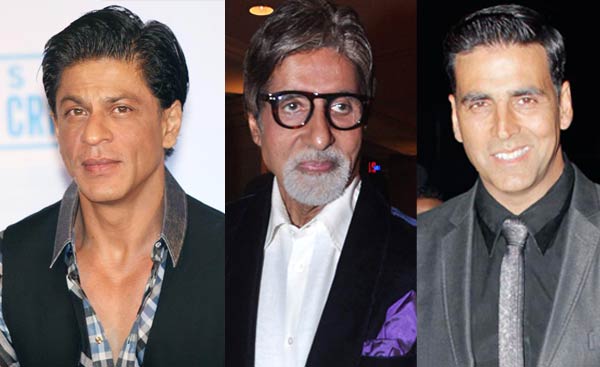 It's not a cakewalk for any actor to make it big in Bollywood. Starting from superstars like Shahrukh Khan, Akshay Kumar, Nawazuddin Siddiqui and many more, they all had their own share of rejections, struggles, and did odd jobs to earn their bread and butter. Have a look at 5 Bollywood struggle stories that will give you all the inspirational boost for the New Year.
Amitabh Bachchan
Amitabh Bachchan was rejected twice because of his voice. There were some days where he was not even given a chance to participate in an audition to prove his talent. He was rejected for not possessing a camera conductive face.  After getting an entry into Bollywood, he struggled very hard to get a hit with Zanjeer. Amitabh delivered a hit film after giving 12 flops. Today Amitabh is famous all over the world because of his unique voice.
Akshay Kumar
The Khiladi of Bollywood Akshay Kumar first dropped out of college and then moved to Bangkok to focus on his martial arts training. Akshay worked as a waiter and chef to survive, and even sold jewellery in India which he brought back from Bangkok to earn money. After finishing his training, Akshay returned to India, and started his own training classes. Slowly and intelligently, the actor made his way into modeling, and from that point on, there was no looking back.
Shah Rukh Khan
Before tasting stardom, the actor tried his hand at the restaurant business in Delhi, worked as a concert attendant, and even sold tickets at the booking window of a Mumbai theatre on the opening day of his 1994 film- Kabhi Haan Kabhi Naa. Shah Rukh only had 1,500 bucks in his pocket when he shifted base from Delhi to Mumbai, and sometimes slept on railway platforms.
Manoj Bajpayee
Manoj Bajpayee, one of the finest actors that we have in the country revealed that there was a time when he had no money to eat and so had to do a few episodes of TV series for just a thousand bucks per episode. Manoj said that he could heave a sigh of relief only after the success of his serial Swabhiman. The serial started giving him Rs. 2,000 per episode. 
Nawazuddin Siddiqui 
He was from farmer's family. He had 8 siblings. After completing the education, he took up the job as a chemist. He also worked as a watchman. He debuted with 'Sarfarosh' in 1999. He waited for almost a decade for a major break in the Bollywood. Nawazuddin Siddiqui's story helps us to understand that hardwork and patience helps you to reach your goal.
For more entertainment news and updates, follow our Facebook page