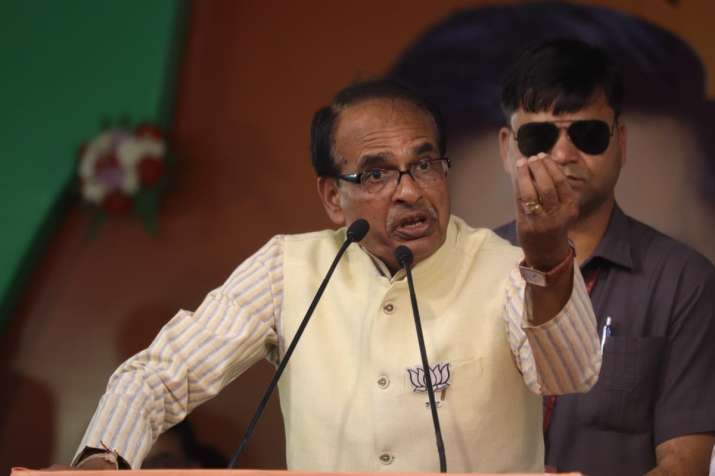 According to India TV-CNX exit poll on Friday, the Bharatiya Janata Party (BJP) is likely to form a government in Madhya Pradesh. In the state, party wise seat wise prediction by the exit poll shows, BJP may get 122 to 130 seats in a House of 230, a clear majority for the party led by Chief Minister Shivraj Singh Chouhan, who has been ruling the state continuously for last 13 years. 
The main opposition party Congress may secure 86 to 92 seats, while the Bahujan Samaj Party may get four to eight seats, and 'Others' may get 8 to 10 seats. Others include Gondwana Ganatantra Party, Samajwadi Party, Left Front and independents. 
In the 2013 Assembly polls, BJP had won 165, Congress had won 58, BSP four and 'Others' had won three seats. Vote share wise exit poll shows, BJP getting 42.5 per cent of the total votes, a drop of 2.38 per cent, while the Congress may get 38.33 per cent, a hike of 1.95 pc votes compared to 2013 polls. 
[ALSO READ] India TV-CNX Exit Polls | BJP likely to form govt in MP, Chhattisgarh; Congress may get Rajasthan, TRS to retain power in Telangana
Region wise exit poll results show, BJP may win 15, Congress 16, BSP 2 and Others one in Chambal (which has 34 seats), while in Malwa-Nimar, having 72 seats, BJP may win 44, Congress 25 and Others three seats.  
In Baghelkhand, having 52 seats, BJP may win 25, Congress 21, BSP 4 and Others two seats, while in Bhopal region, having 22 seats, BJP may get 15 and Congress may get only six seats, with the remaining seat going to Others. 
[ALSO READ] India TV-CNX exit polls predict Congress return to power in Rajasthan, record 4th term for BJP in MP and Chhattisgarh, TRS may retain power in Telangana
In the Mahakoshal region, having 50 seats, BJP may get 27 seats, while Congress may get 21 seats, BSP nil, and Others may win 2 seats.
The exit poll in Madhya Pradesh was conducted in 710 polling stations covering 77 assembly constituencies, and questionnaire was given to 9240 men and women voters in the age group 18-60, CNX said.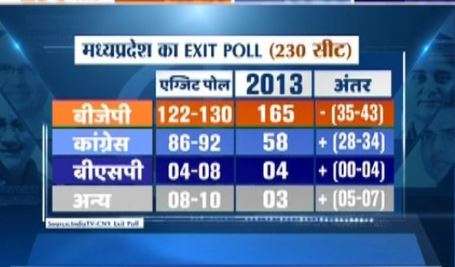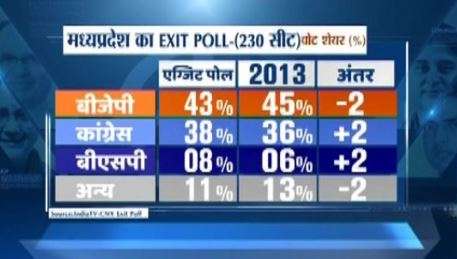 WATCH VIDEO: IndiaTV-CNX Exit Polls: Shivraj Singh Chouhan likely to form govt in MP, BJP may get 122-130 seats