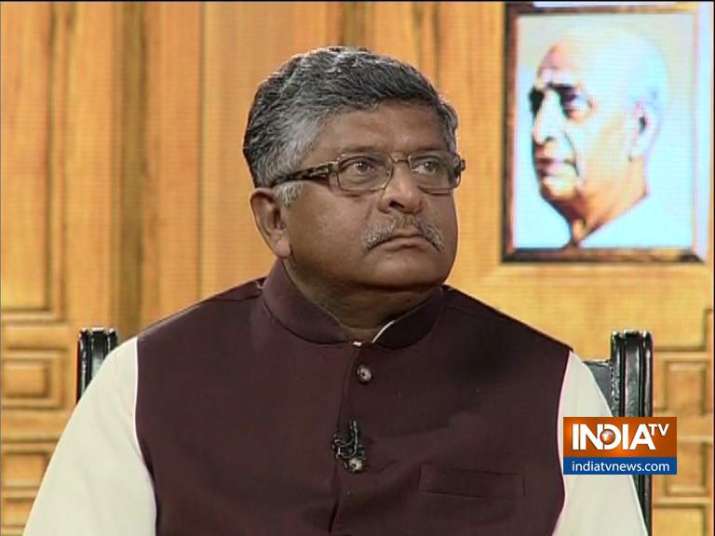 Union Law Minister and BJP candidate from Patna Sahib Ravi Shankar Prasad today said that "India will carry out strike on Pakistan again, but we will not target common Pakistanis. We will only destroy terror camps". 
 
Replying to questions from Rajat Sharma in 'Aap Ki Adalat' to be telecasted tonight on India TV, the Law Minister said: "India is a peace loving country, but if it is attacked, it will not hesitate to strike back. (chhedengey toh hum chhodengey nahin). 
 
"We ended Pakistan's nuclear blackmail (after the Balakot air strike). Terror masterminds like Hafiz Saeed and murderer Masood Azhar no more appear on TV threatening India. Pakistan had to return our IAF Wing Commander Abhinandan after two days. This is India's power.
 
"We will not target common Pakistanis, we will only target terrorists. We will strike again inside Pakistan (ghar me ghus ke marengey). Our message is clear, if you carry out terror attack, then we will strike back. This is Naya Bharat (New India). This is 'Saahasi Bharat' (Brave India) led by Narendra Modi. The whole world sides with India, while only China supports Pakistan."
 
The Law Minister quoted a former Indian Air Force Chief who had said that the then UPA government in 2008 did not give permission for IAF to strike inside Pakistan after the 26/11 Mumbai terror attack.
 
He lashed out at the opposition leaders for demanding proof of damage caused by IAF air strike in Balakot, Pakistan. 
 
"Even the US, UK, Germany, France, Russia and Israel are not demanding proof, because they know what actually happened. If no damage took place, why is not Pakistan allowing foreign journalists to visit the site in Balakot?"
 
The Law Minister said, "had India acquired Rafale aircraft, there would have been no need to enter Pakistan's airspace to strike in Balakot."
 
Prasad lashed out at Congress President Rahul Gandhi and alleged that the latter was raising the Rafale issue repeatedly because " his brother-in-law's friend Sanjay Bhandari is an arms dealer and lobbyist for Rafale's corporate rival Eurocopters. This is pure corporate rivalry at work. 
 
"Out of the offset contracts given to 100 companies, only Rs 800 crore work has been given to Anil Ambani's company to manufacture aircraft components."
 
Asked why Modi government did not take action against Robert Vadra in the last five years for his land deals, the Law Minister said: "His plots in Bikaner and Haryana have been seized. ED and Income Tax are at work and he is seeking bail. For three years, he had taken stay from High Court.  
 
"In 'Robert Vadra model of development', land was purchased for Rs 7-8 lakhs and Rs 700 crore was earned by changing land use", the minister said.
 
Prasad hit out at 'Mahagathbandhan' saying that "India of 2019 is not the India of Nineties. V. P. Singh became PM for nine months, Chandrashekhar for four months, H D Devegowda for nine months and I. K. Gujaral became PM for eight months. The nation wants stability with a strong government (majboot sarkar). 
 
The Law Minister said that veteran BJP leaders L. K. Advani and Murli Manohar Joshi were not given tickets because of old age. "Advani Ji's contribution towards building our party and a generation of leaders is historic. We also respect Joshi JI. This is the strength of our party."
 
On his poll rival in Patna Sahib, Shatrughan Sinha, the Law Minister said: "He was MP for 22 years, 12 years in Rajya Sabha and 10 years in Lok Sabha. He won the 2014 election because of Modi wave. I feel hurt when he uses abusive words against Modi Ji. "
ALSO READ | PM Modi has assets worth...Here's what his poll affidavit says
ALSO READ | When Rahul Gandhi met Rahul at Bihar rally. Here's what happened
WATCH VIDEO: Ravi Shankar Prasad in Aap Ki Adalat