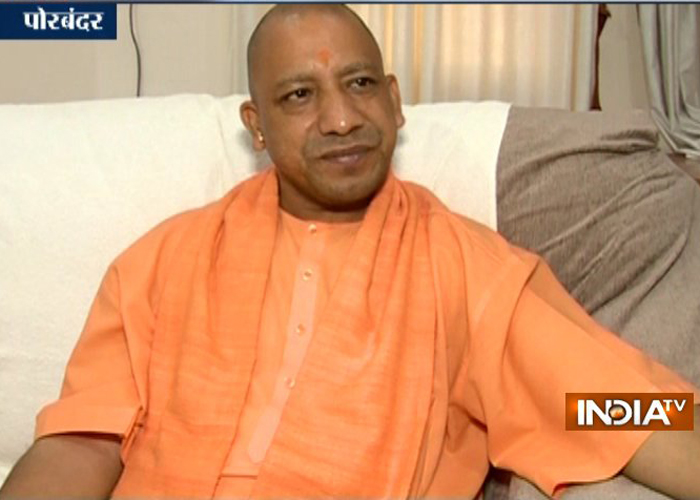 At a time when Congress vice-president Rahul Gandhi's visit to famous Somnath temple ahead of the crucial Gujarat Assembly elections has erupted war of words between the ruling BJP and the Congress, Uttar Pradesh Chief Minister Yogi Adityanath, in an exclusive interview to India TV, on Thursday said that the Gandhi scion is becoming a butt of jokes due to his "childish behaviour".
The entire Rahul Gandhi controversy arose when Rahul Gandhi on his visit to the famous Gujarat's Somnath temple, allegedly mentioned himself as a 'non-Hindu' on the temple register. On Wednesday, the Bharatiya Janata Party (BJP) went to town with the story that Rahul has declared himself to be a non-Hindu. Reacting to this, the Congress, in a hurriedly conducted press conference, said that the Modi-led BJP was scared of the outcome of the Gujarat Assembly elections and was thus resorting to cheap politics.
Stepping up his attack against the Opposition, the BJP strongman said that Rahul could have checked the temple register himself.
BJP's star campaigner Yogi Adityanath said that as per the norm of the temple, every non-Hindu person visiting the Somnath temple needs to make a register entry before entering the premises.
Meanwhile, Somnath temple authorities said that Rahul did not sign the register maintained for non-Hindus during his visit to the temple in the poll-bound state.
Somnath temple, located on the shores of the Arabian sea on the southern most part of Gujarat, is revered by Hindus and enshrines the first of 12 'jyotirlings' of Lord Shiva.
Rahul Gandhi is on a second leg of his two-day campaign tour to poll-bound Gujarat. This is also his sixth visit to the state since the Assembly elections dates were announced on October 24.
Elections to the 182-member Gujarat Assembly will be held in two phases on December 9 and 14. Counting of votes will take place on December 18.
WATCH FULL VIDEO HERE: