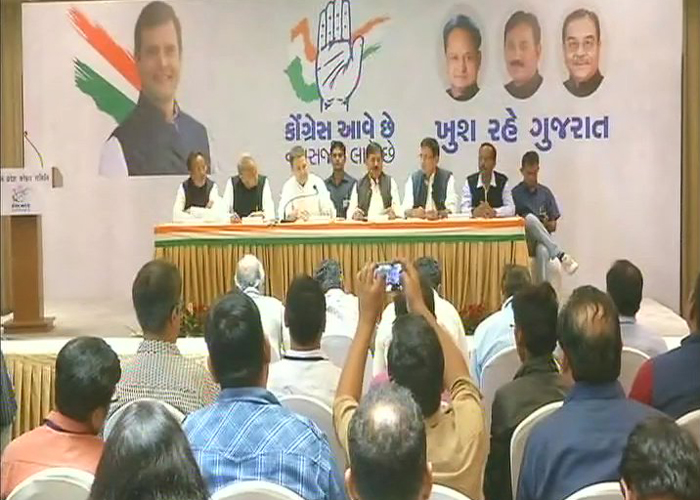 Addressing a press conference for the first time after being elected as the Congress president, Rahul Gandhi on Tuesday said that he is confident that his party will win elections in Gujarat. He added that the Modi-led Bharatiya Janata Party (BJP) was on a losing wicket.
"After the first phase voting in the state (December 9), we are confident that we are going to form the government here," the Gandhi scion said.
"Earlier Modiji used to talk about corruption everywhere. But since we raised the issues of Jay Shah (BJP President Amit Shah's son) and the Rafale defence deal (with France), he stopped talking about corruption," the Congress leader said.
He alleged that the BJP's rule of Gujarat had only helped a few. "In the last 22 years, Modiji and (Chief Minister Vijay) Rupaniji have initiated only one-sided development here, the one only for 5 to 10 people. Not everyone has been given their due."
Earlier in the day, the Gandhi scion was also seen visiting Jagannath temple.
Rahul Gandhi's press conference in Ahmedabad: As it happened
1:40 pm: I have made it clear I will not tolerate such things, Modi ji is after all the Prime Minister of India, though what all Modi ji said about Dr. Manmohan Singh is also not acceptable.
1:33 pm: People of Gujarat are very intelligent, they can see that PM Modi is not talking about corruption or farmers in his rallies. There is a massive undercurrent, I am actually little surprised, I had expected BJP to fight with more strength.
1:30 pm: Whatever decision we will make about Gujarat, it will only be done after talking to the people of Gujarat, after listening to their voices. No decision will be taken unilaterally.
1:29 pm: Whenever I went to a temple I just prayed for a 'Sunehra Bhavishya' for the people of Gujarat, a better development here. Is it wrong to go to a temple, asks Rahul.
Jahan mauka milta hai vahan mandir jaata hoon, Kedarnath bhi gaya tha, vo kya #Gujarat mein hai?: Rahul Gandhi on ppl linking his temple visits to #GujaratElection2017 pic.twitter.com/gIpheAV9t2

— ANI (@ANI) December 12, 2017
1:24 pm: In last 22 years Modi Ji and Rupani ji have initiated only one-sided development here.
1:22 pm: Confident that Congress will win Gujarat, says Rahul Gandhi
1:10 pm: Both the principal opponents in the Gujarat Assembly elections had organised massive road shows by their key campaigners on the last day of electioneering for the second phase of polling for 93 out of 182 seats on December 14.