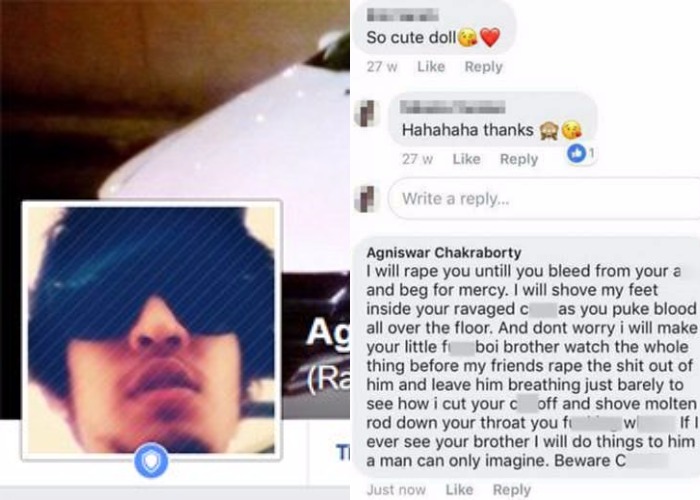 The incident which went viral a few days ago, about a Kolkata guy threatening a girl on FB of rape, sent everybody shivering with rage. The case drew a considerable public attention after Karishma Khemlani shared the screenshot of this 'sick' guy's rape threats on Twitter. The pervert goes by the name Agniswar Chakraborty. After the collective public uproar, Kolkata police nabbed the man in question and updated the news about the same on Twitter. According to the tweet, the culprit is now under arrest and he admitted his guilt. His phone has been seized. 
FYI @sandygrains @DrSYQuraishi @Chinmayi @Shrabonti @prasanto @_pallavighosh @HoeZaay https://t.co/zpSmG4vmGR

— Kolkata Police (@KolkataPolice) October 10, 2017
According to the user, Karishma Khemlani, the guy has never had any conversation with the girl in the past. One day he dropped a comment on her pictures. She deleted the picture as the guy was a complete stranger to her. Feeling outraged by this, Agniswar posted a comment which is a vile rape threat, offensive to the senses. The comment contained the gory details and reflected highly of the sick mentality of this man. 
Friend of the girl Pranaadhika Sinha, who runs a page Shontu- United Against Online Harassment, brought the screenshot to public notice. Karishma is a 20-year-old girl studying in Australia. She posted a picture which was a screenshot of her skype call with her younger brother who is 14-year-old. Under this picture, the Kolkata guy commented with a smiley, which Karishma deleted. Next what happened shook the entire social media with fury. 
Many popular faces including comedians Sorabh Pant and VJ Jose Covaco reacted strongly on the post. Singer Chinmayi Sripaada replied to the tweet asking the girl to file a complaint against him.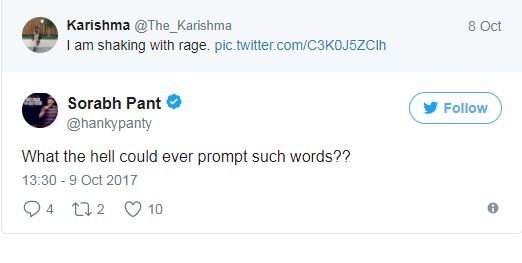 Dear @KolkataPolice take action on Agniswar Chakraborty NOW! https://t.co/pJWY0vQftG

— Chinmayi Sripaada (@Chinmayi) October 9, 2017
When Karishma got in touch with few of his friends, they confirmed that this is how he usually talks. She said that it was particularly shocking for her that the guy threatened to rape a 14-year-old boy, which is an offence under POCSO act.