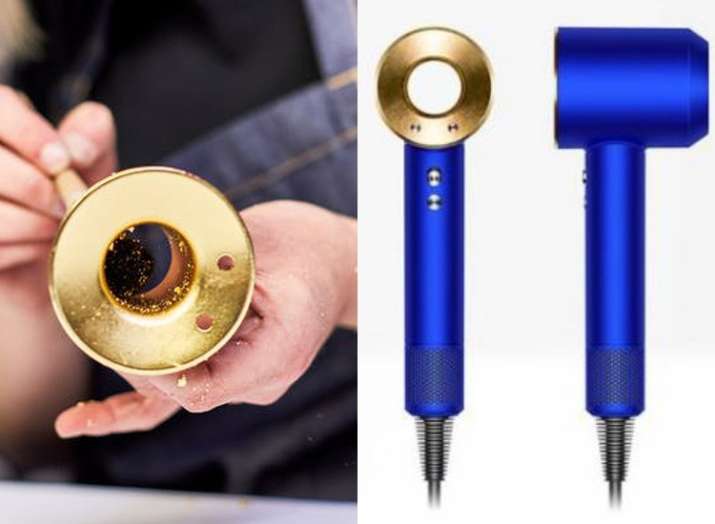 From getting a toilet made up of gold to a Gold Coffin, people have taken their love for the metal to another level. We had still not recovered with the thought of contact lenses made up of Gold and here is another bizarre thing launched. Yes, we are talking about a new hairdryer made of 23.75 karat gold.
Dyson has introduced the Dyson Supersonic™ 23.75 karat gold hair dryer. Designed by James Dyson and priced at Rs 37,900, the product is gold leafed using a traditional hand-gilding method and is the first of its kind. 
"Gold is one of the most resilient materials in the world and has been used in design, sculpture and architecture for centuries. As an element, I'm fascinated by its properties. Like the engineering process we pride ourselves on, gilding is a true example of meticulous craftsmanship," said James Dyson in a statement.
Dyson design engineers and model makers first learned the skills for gilding under a master guilder, learning the process and technique to gild. Once learnt, the design and engineering team sought how to scale the process, making it more repeatable and perfecting the surface finish specifically for this application.
"We aren't afraid to take on a new challenge. We weren't experts in gold or gold leafing but we broke down the technique into individual steps to understand how each parameter affects the finish and how we could best apply it to our hair dryer.
"Using our expertise in design processes, adhesives, paint and model making, we managed to learn a very traditional skill and translate it to a 21st-century application," said Design and Engineering Lead Britta Stockinger.
Earlier, an Indian optometrist developed limited editions gold and diamond contact lenses of 5g and each pair was valued at $15,590.
(With IANS inputs)
For latest stories breaking the internet, check out our BUZZ section!