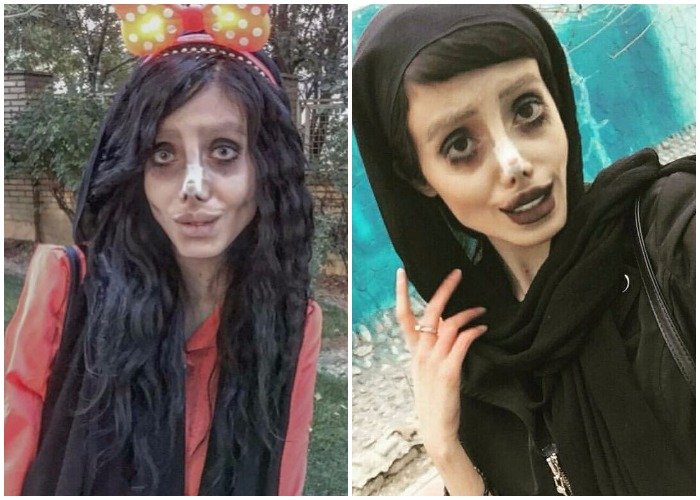 Do you remember Sahar Tabar of last week who made headlines for her hideous transformation to look like Angelina Jolie? Yes, the same 19-year-old teenager who was being dubbed as a 'corpse' and a 'zombie' on social media. It turns out that the teenager has fooled the entire world with her 'so-called physical transformation'. Earlier, reports said that the young girl underwent 50 surgeries on her face to look like The Tourist actyress Angelina Jolie. She even got heavily trolled for the failed job by her surgeons.
Here's the previous story: PICS: Iranian teenager undergoes 50 surgeries to look like Angelina Jolie but results might shock you!
Now in an interview to a Russian news website, Sputnik, she had revealed that she didn't intend to look like Jolie neither did she went under knife 50 times to get face fixed. She, in fact, doctored her selfies on PhotoShop to look like a zombie with skinny face, greyish skin, sunken eyes and upturned nose.
She said, "Every time I publish a photo, I paint my face in an increasingly funny way. It is a way of expressing yourself, a kind of art. My fans know that this is not my real face."
There were also rumours that Sahar wanted to look like 'The Corpse Bride'. Speaking on it, she said, "I did not even think about being like Jolie. Also, I did not want to resemble the cartoon character Corpse Bride. Now I understand that I have something to do with them, but I am a muse myself and remembering someone is not an end in itself."
However, she did undergo surgery to get her nose altered and got her lipjob done. But it wasn't as much as it was reported. She also did not lose weight as previous reports were suggesting. She said, "I lost weight, that's true. But I did not drop 40 or 30 kilograms, but about five or seven. Now my weight is 54 kilograms."
Talking about the backlash she's getting on social media, she said that people' opinion doesn't matter to her.