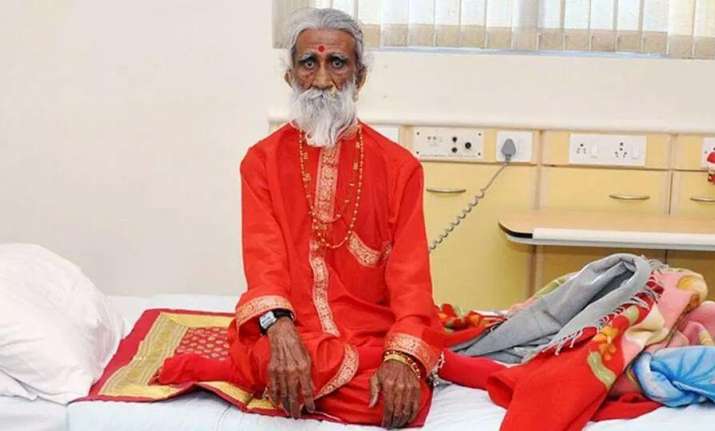 Prahlad Jani, the famous miraculous Yogi from Gujrat's Charod village in Mehsana always wears red clothing and proudly boasts of his unbelievable survival of seven decades without food water. This claim, that even leaves scientists aghast has led this man to be named the 'bretharian' by the international community, owing to his miraculous claims.
This Yogi from Gujarat always wears red clothing and is referred to as 'Mataji'. People from several nearby villages pay him a visit to experience the presence of this supposed miraculous yogi.
Over the years, several medical examinations have been performed on him and one such scientist was our former President of India Dr APJ Abdul Kalam. All these tests were to no avail as the scientists still can't figure out how does he manage to survive with his way of life. Scientists even examined plants in his ashram but had nothing new to find.
If 'Mataji' is to be believed, he owes his extraordinary survival to his devotion towards Goddess Amba. He says that is what gives him this strength. Back in 2010, the Defence Institute of Physiology and Allied Sciences (DIPAS) conducted an observational study on 'Mataji' along with the Defence Research and Development Organisation (DRDO), and concluded that Prahlad Jani "has some extreme form of adaptation to starvation and water restriction as evident from serum Leptin and Ghrelin levels that have been estimated."
In this study, Jani was kept under strict isolation and video monitoring for 15 days. He was only taken out for MRI, Ultrasound, X-Rays and exposure to the sun.
Even the reasons are scientifically explained, his disciples still continue to visit his ashram.  "I have heard a lot about him, and today when I visited his ashram, I experienced immense peace.", says one of his 'bhakts' from Uttar Pradesh.
In the past Prime Minister Narendra Modi and other influential people have also visited his ashram to seek his blessings.
(With ANI Inputs)