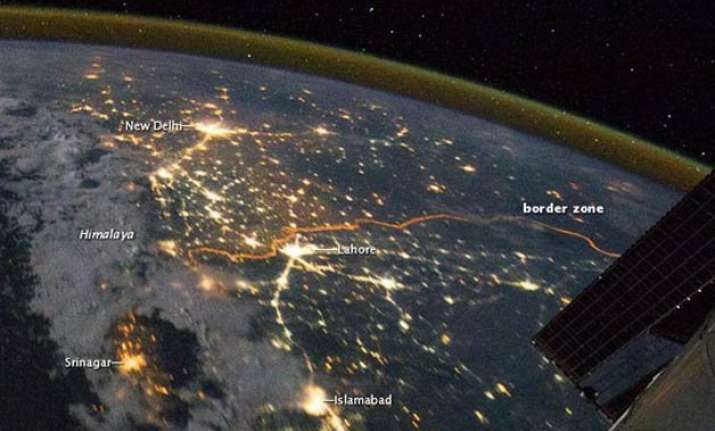 New Delhi: Countries sharing borders have often been at loggerheads. India and Pakistan have shared centuries of history and after the fateful partition of 1947, decades of enmity.
The two countries have fought wars in the years 1965, 1971 and 1999. Post the Kargil War (1999), tension between the two countries  has never ceased to exist. Be it the Kashmir issue or cross border terrorism or hate speeches exchanged between the two countries, there is always resentment between India and Pakistan.
But from above things look very different. Recently, NASA released a photo taken from outer space which depicts the India-Pakistan border at night.
Here is the picture for you:
An astronaut aboard the International Space Station captured this mesmerizing panorama. The brightest spot visible in the photo is Karachi facing the Arabian Sea. The photo also shows the Indus valley and the foothills of the Himalayas. The Indo-Pak border is one of the few international borders which is visible at night.
Speaking about the photograph, NASA said, ""More than two millennia ago, Alexander the Great entered the Indus plains in 327 BCE from the northwest. He then spent many months leading his army and navy down the length of the Indus valley shown in this view. From near Karachi, he then began the desert march back to Mesopotamia (modern Iraq). By contrast, it takes the space station just three minutes to travel this distance."
The image was taken on September 23rd with a Nikon D4 digital camera using a 28 millimetre lens.