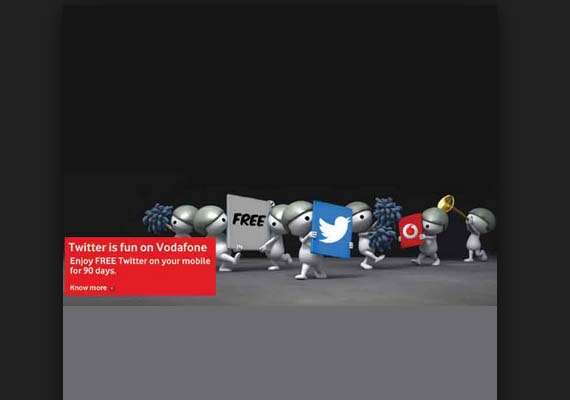 New Delhi, July 29: Vodafone India is offering its prepaid and postpaid mobile subscribers free Twitter access for a period of three months starting July 29.
The offer enables its subscribers to access the official Twitter app or Twitter's mobile website (mobile.twitter.com) for free. The free access is not applicable for accessing Twitter via third-party apps or clicking links on tweets that takes the user to external websites. The offer is applicable till November 1.
The company adds that "the Eligible Subscriber would only be charged for connection setup, at 10p/10KB on 2G all circles except Uttar Pradesh (West), Madhya Pradesh and Karnataka and 2p/10KB on 3G and 2G in Uttar Pradesh (West), Madhya Pradesh and Karnataka in case he/she is subscribed to Pay As You Go Tariff at Prevailing Pack Tariff in case he/she has subscribed to any of the Vodafone India Mobile Internet Packs."
It's worth pointing that free Twitter access is available only when the subscriber sets the APN to 'www' in the Internet data settings on the phone. The offer is not available to BlackBerry users.
Vodafone is also running advertisement messages within the Android Twitter app showing promotional messages under individual tweets and pop-up messages when one tries to compose a tweet, as reported by some users. (Hat tip - Pravin @beingpractical).
Earlier in April, Reliance too offered a similar scheme in a tie-up with Twitter.