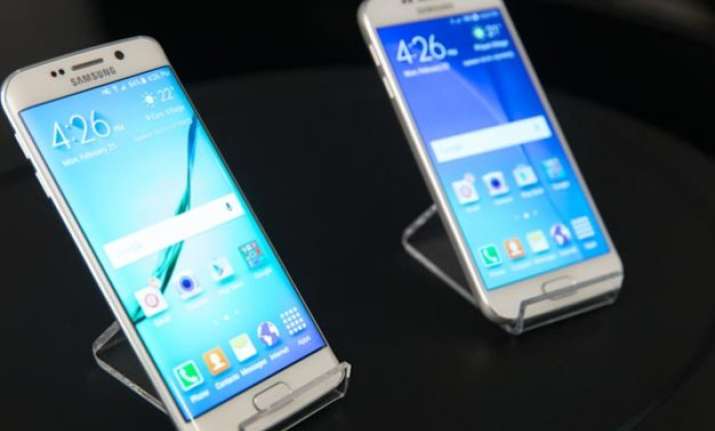 Samsung is all set to launch its latest galaxy models, the Galaxy S6 and the Galaxy S6 Edge, in India on March 23. The smartphone maker has already sent invitation to the media for the same.
The expected price of Samsung Galaxy S6 could be between Rs 49,990 and Rs 54,999 while the Galaxy S6 Edge may cost between Rs 64,990 and Rs 69,999.
The Galaxy S6 and S6 Edge sport an identical spec sheet apart from the Dual Edge, battery with a slight difference in dimensions.
The Galaxy S6 takes all of what we love about the S series and catapults both the design language and software forward, making this easily the most exciting Galaxy S to date.
Galaxy S6 Edge curved display is the real show stopper and works particularly well with the new slide-in menus in Android 5.0 Lollipop's Material Design makeover.
Battery life is actually pretty good too, considering that bright, super-crisp power-sucking screen. The S6 is powered by a 2,550mAh battery while the S6 Edge has a 2,600mAh battery. The good news is, even if your Galaxy S6 dies before the end of the day, the new Quick Charging ability means you can have it back on its feet in just a few minutes.
Both comes with built-in wireless charging- WPC1.1(4.6W Output) & PMA 1.0(4.2W) compatible.
Both the devices run on Android 5.0 Lollipop OS along with quad 2.1GHz + quad 1.5Ghz, octa-core application processor. The devices sport a 5.1-inch Quad HD(2560×1440)Super AMOLED display at 577ppi.
Both the devices comes with a 16MP OIS rear camera and a 5MP front camera whose feature include  Quick Launch, Tracking AF, Auto Real-time HDR(Front & Rear) , F1.9, Low Light Video(Front & Rear), High Clear Zoom, IR Detect White Balance, Virtual Shot, Slow Motion, Fast Motion, Pro Mode, Selective Focus.
The Galaxy S6 (and the Edge) does get a little toasty at times, if you're doing a lot of downloading or shooting video. However, it never reaches alarming or uncomfortable levels and I never saw any adverse effects like the phone shutting down or spurting errors.
On the memory front, the S6 and S6 Edge comes with 3GB LPDDR4 RAM and will be available in 32GB, 64GB and 128GB internal storage variants with support for Universal Flash Storage 2.0.