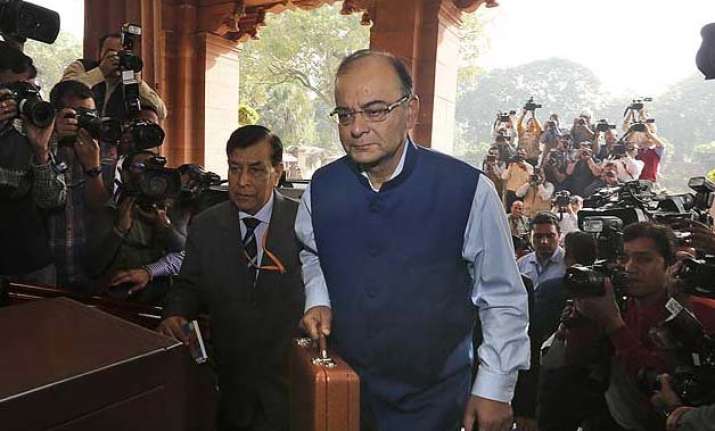 New Delhi: Finance Minister Arun Jaitley on Saturday presented the Union Budget for 2015-16 saying that the country's economy is better placed today with its credibility re-established by a series of measures taken by the Narendra Modi government. He stressed that India is growing when economies the world over are struggling.
"I am presenting the union budget in an economic environment which is far more positive than in the recent past. While major economies of the world face difficulties, India is poised for higher growth trajectory," Jaitley said as he started his budget speech in the Lok Sabha.
"India is about to take off," Jaitley, 62, said early in his speech to lawmakers. "The world is predicting that this is India's chance to fly."
Jaitley said he would stand by the fiscal deficit target for the 2014-15 fiscal year, which ends March 31, of 4.1 per cent of gross domestic product.
Here are important highlights of Budget 2015:
No changes in income tax slabs
Individual tax payer will benefit to the extent Rs 4,44,200 from exemptions announced.
Transport allowance doubled to Rs 1,600/month from Rs 800/month.
Increase in limit of tax deduction for health premium from Rs 15000 to Rs 25,000 annually.
Consolidated Service tax increased from 12.36 to 14 per cent.
FM Abolishes Wealth tax. Will have 2% surcharge on super rich with above 1 crore Rs annual income.
Reduced taxes on Technical Services to 10 per cent from 25 per cent.
Quoting PAN a must for all purchases above Rs 100,000.
Benami transaction prohibition bill to be introduced for curbing black money.
FEMA Act to be amended to incorporate Black Money provisions.
Tax evasion may entail jail term of 10 years.
Comprehensive new law on black money stashed abroad, to propose the bill in current session of Parliament.
Corporate tax reduced from 30% to 25% for next four years for employment generation
Rs 2 lakh 46 thousand crore for Defense budget ; an aprox. increase of 25 thousand cr.
Rs. 3,31,500 Cr boost for Healthcare sector.
To set up AIIMS in Punjab, J&K, Assam, Himachal & Tamil Nadu.
To set up an IIT in Karnataka; upgrade Dhanbad college to IIT.
To launch National Skills Mission to boost jobs.
Unclaimed deposits of 3000 cr in PPF and 6000 cr in EPF corpus - detailed scheme in March to appropriate the funds for senior citizens.
Will increase Visa On Arrival facilitiy from 43 to 150 Countries.
Govt. to introduce Gold Monetization Scheme, Sovereign Gold Bonds and Gold coins with Ashok Chakra.
To merge FMC with SEBI to strengthen regulation.
Pradhan Mantri Jeevan Jyoti Bima Yojana - Rs. 12 per annum premium, Rs. 2 lakhs coverage.
GST will put in place state of art indirect tax system by April 1st 2016
New scheme called Nayi Manzil to enable Minority youth without school leaving certificates to get employment.
Propose Mudra Bank of corpus of 20000 crores to refinance Micro Financial Institutions. Will fund the unfunded.
National agri market to increase income of farmers
MNREGA to stay.
JAM Trinity-JanDhan, Aadhaar Mobile & GST are game changing reforms.
GDP growth will accelerate to 7.4 per cent.
States have been empowered financially.
.
Economic Environment far more positive.
Every rupee of public expenditure will contribute to the betterment of people's lives.
Our achievements: Financial inclusion through Jan Dhan Yojana,coal auctions conducted transparent & Swachh Bharat.
One of our achievements is conquering inflation.