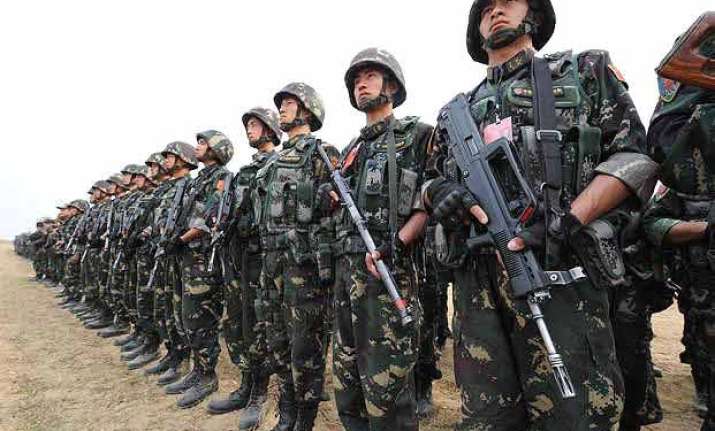 Beijing: Notwithstanding its slowing economy, China today hiked its defence budget by 10.1 per cent, postinga double-digit annual increase in its proposed militaryspending for the fifth year in a row.
Amounting to USD 142.2 billion, China's defence expenditure for this year overshadows India's defence budget of USD 40 billion, almost USD 100 billion more.The increase of the defence spending was announced by Prime Minister Li Keqiang in his work report submitted to the China's legislature the National People's Congress.
The hike marks an increase of about USD 12 billion overlast year's USD 132 billion, making China the second largest military spender after the United States whose national defence budget accounted to about USD 600.4 billion in 2013.
Chinese official media, however, said the hike is the lowest in five years as the second largest economy confronts mounting pressure in the face of an economic slowdown. Chinese economy grew last year at 7.4 per cent, the lowest in 24 years missing the official target of 7.5 per cent.
According to a budget report released shortly before theNPC, the government plans to raise defence budget to 886.9 billion yuan (about USD 144.2 billion). Nonetheless, the 10.1 per cent rise represented the lowest expansion in China since 2010, when the defence budget was set to grow by 7.5 per cent. The figure has thereon been riding on a multi-year run of double-digit increases, expanding 12.2 per cent last year.
Today's budget report did not explain the rationale behind this year's abated growth, but said that national defence development would be coordinated with the country's economic growth. The report played down brewing new concerns that the world's economic power house is losing steam stressing that
China is now in a "new normal" state, where a balance ought to be stricken between growth and structural optimisation.
It said China will comprehensively strengthen modern logistics, step up national defence research and development of new- and high-technology weapons and equipment, and developdefense-related science and technology industries."Building a solid national defence and strong armed forces is fundamental to safeguarding China's sovereignty, security, and developmental interests,".