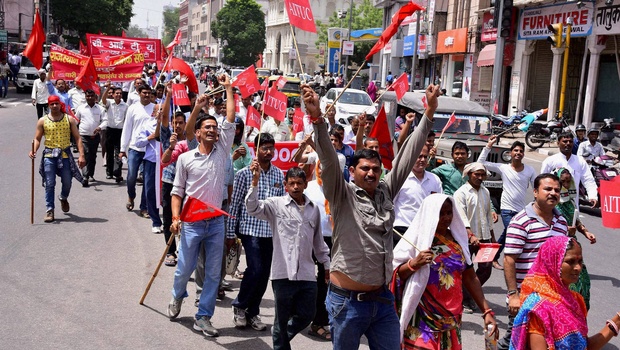 Trade unions on Tuesday refused to call off their scheduled strike on September 2 despite the central government agreeing to some of their demands including hiking the minimum wage to Rs 350. 
Finance Minister Arun Jaitley today announced the government's decision to raise the minimum wage for semi-skilled non-agricultural workers from Rs. 246 to Rs. 350.
The Centre has also decided to pay two years pending bonus of central government's employees which will put an additional burden of Rs 1,920 crore on the exchequer.
Jaitley, however, added that the decision was not linked to the scheduled strike. 
On March 30, all central trade unions such as INTUC, AITUC, HMS, CITU, AIUTUC, TUCC, SEWA, AICCTU, UTUC and LPF had given a one-day national general strike call on September 2 to protest against the Modi government's "unilateral labour reforms and anti-worker policies".
The RSS-backed Bharatiya Mazdoor Sangh (BMS) has, however, decided to keep away.
These 10 unions claim a combined membership of 15 crore workers in public and private sector enterprises, including banks and insurance companies.
Reserve Bank of India workers and employees have also decided to join the strike along with other bank union workers and officers. 
Last year too, the unions had gone on strike on September 2 to oppose the amendments in labour laws by the Centre as well as states, saying their 12-point charter of demands had not been met.
The unions have been opposing certain proposed labour law amendments that allow hire and fire, make it tougher to form labour unions and dilute existing social security available to workers at different fora.
Under the proposed Industrial Relations Code Bill 2015, companies with up to 300 headcount need not get government nod for retrenchment, lay off and closure. The government is also working on a Small Factories Bill that seeks to exempt units with under 40 workers from 14 labour laws.