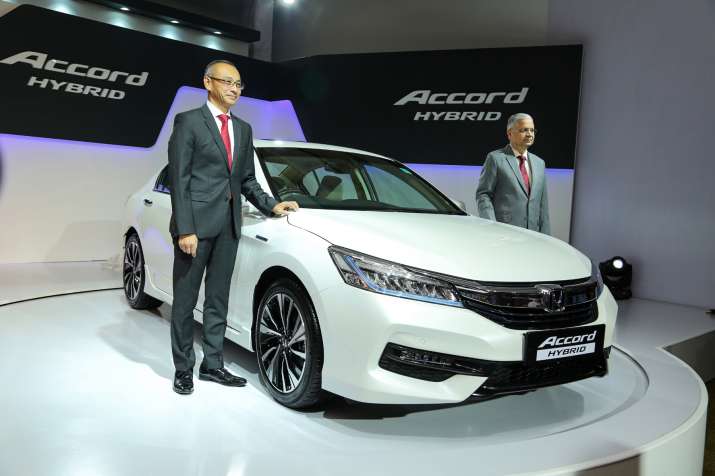 Honda Cars India Ltd. (HCIL), leading manufacturer of passenger cars in India, today launched the All-New Honda Accord Hybrid featuring the world's most efficient hybrid system which delivers top-of-the class powerful performance with 215 PS of maximum output and best in class fuel economy of 23.1km/l. 
The new Honda Accord Hybrid is the ultimate Accord, the most refined, technologically sophisticated, uniquely stylish and the most fuel efficient hybrid model in its segment. The Honda Accord is equipped with Honda's two motor hybrid system - Sport Hybrid Intelligent Multi Mode Drive (i-MMD) combined with an ultra-efficient 2.0-liter i-VTEC Atkinson Cycle engine.
Speaking on the occasion, Mr Yoichiro Ueno, President & CEO, Honda Cars India Ltd said, "It is always our endeavor to offer Honda's latest technology and products to the Indian customers and the introduction of the Accord Hybrid is in line with our commitment.   The All-New Honda Accord Hybrid is automotive perfection with many dimensions of advanced technology and safety systems. With its luxurious design from exterior to interior, I'm confident that the Honda Accord Hybrid is the perfect response to our customer's demands for a car that will reflect their identity and vision of being ahead of others." 
"The Accord brand was initially introduced in India in 2001 in its 6th Generation version and has been our flagship model in the country. We are very pleased to introduce the latest 9th Generation Accord in its Hybrid version in this market which will further strengthen the brand value for Honda cars in India," he added. 
The Sport Hybrid Intelligent Multi Mode Drive (i-MMD) is a full hybrid system featuring a 2.0-Liter, 16-valve, Atkinson Cycle Double Overhead Camshaft (DOHC) i-VTEC 4-cylinder engine combined with two powerful electric motors, an E-CVT transmission, a Power Control Unit (PCU) with high power output density, a compact & light 1.3 kilowatt-hour (kWh) high output Lithium-Ion battery and Electric Servo Brakes with high regeneration efficiency.