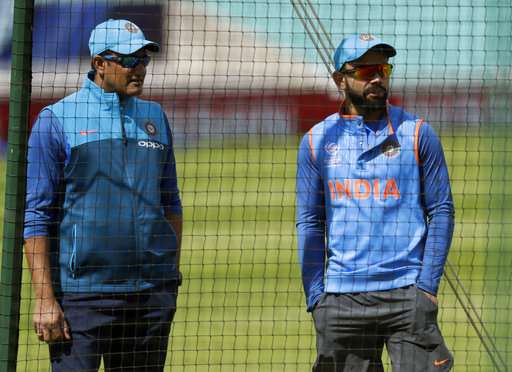 India captain Virat Kohli on Thursday said he respects Anil Kumble's decision to step down as the head coach of the Indian team. Kumble had decided against continuing as India coach and stepped down on Tuesday after a year in charge, blaming a breakdown in his relationship with Kohli for his exit. Kumble took to Twitter to explain his decision, saying he was informed by the BCCI on Monday that Kohli had "reservations with my 'style' and about my continuing as head coach". Kohli, who is in the West Indies to lead India in the 5-match ODI and one-off T20I series starting Friday, refused to react to Kumble's statement, saying "it's his opinion which I respect".
Kumble had said he was "surprised" by Kohli's stance "since I had always respected the role boundaries between captain and coach." Kumble's one-year contract expired at the end of the Champions Trophy. He didn't fly out with the team for the limited-overs tour of the West Indies starting on Friday, and instead stayed in London to attend International Cricket Council meetings.
When the BCCI asked last month for applications for national coach, it said Kumble didn't have to apply as he was the incumbent. But it said it wanted a fair and transparent process. During the Champions Trophy, Kohli had denied rumors of a falling-out with Kumble. 
However, speaking for the first time since the Kumble fiasco and ahead of the first ODI against the West Indies in Port of Spain, Kohli said it was "important to maintain the sanctity of the dressing room".
"Obviously Anil (Kumble) bhai has expressed his views and he has taken the decision to step out and we will respect that decision. It's something that has happened right after the tournament. One thing for sure is that I have had 11 press conferences that have happened during the Champions Trophy. We have created a culture over the last 3-4 years that whatever happens in the change room, we have tried to maintain the sanctity of the change room throughout. That is what the whole team believes in. For us that is paramount," Kohli said.
"I have always respected that and we have continued to maintain that as well. As I said, it's his opinion which I respect. I have total respect for him as a cricketer and what he has achieved for the nation. All the years that he has played. There's no taking away that aspect of him at all. And we all respect him totally."
Kohli refused to divulge anything further on the issue and said: "Like I said for me what's most important is to maintain the sanctity of the dressing-room and what happens in the change-room is something that's very sacred and private to all of us. And something that I would not express in details in a public scenario. As I said, his point of view is out there and we respect that decision."