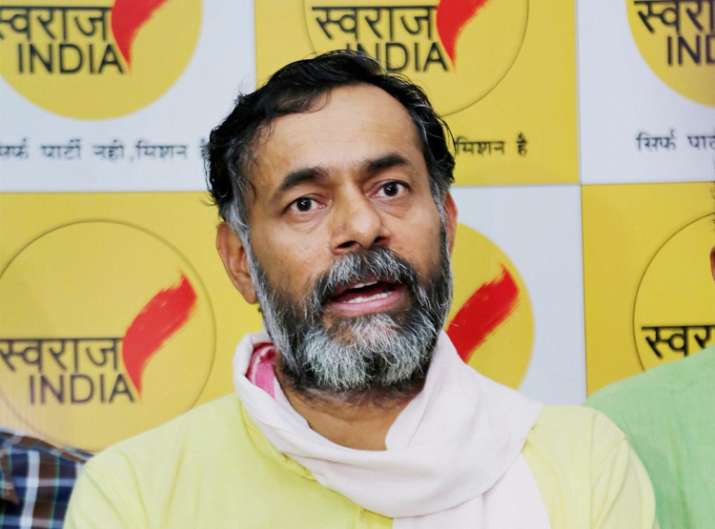 Newly-founded Swaraj India, which contested its maiden polls in the Delhi's civic body elections, drew a a blank even as the party said its performance needs introspection. 
Yogendra Yadav-led Swaraj India ran its campaign with a message to clear Delhi of its garbage and sought to project itself as a viable alternative to the Congress, the BJP and the AAP. 
As the counting began, Yadav said he had "zero expectations" from an infant party and anything above it would be a "bonus". 
Formed on October 2 last year, Swaraj India had fielded 211 candidates, of which 111 were women. 
Twenty-four of its candidates were disqualified during scrutiny of nomination papers. 
The party had also given tickets to candidates from varied fields ranging from an actress to a social worker and from a college pass-out to a para-athlete. 
However, not a single candidate could register a win in the MCD polls. 
BJP swept the polls with a win in 181 of 270 wards, while the Aam Aadmi Party (AAP)  finished a distant second with 48 wards. Congress scored win on 30 seats. 
"No seat for Swaraj India was expected. No firm vote share figures yet, but seems lower than expected. We need to reflect too!" Yadav tweeted. 
Interestingly, Yadav and Swaraj India co-founder Prashant Bhushan both took a jibe at the AAP saying the party blaming the Electronic Voting Machines (EVMs) for its poor poll performance is an excuse. 
"The rout of AAP in MCD, 2 yrs after spectacular win in Assembly, despite poor performance of BJP in MCD, shows abysmal performance of AAP govt," Bhushan tweeted. 
Swaraj India was founded after both Yadav and Bhushan were sacked from the AAP in 2015.