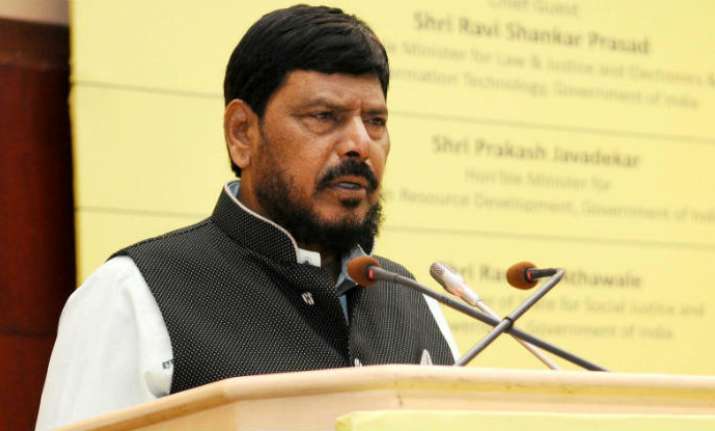 Union Minister Ramdas Athawale today said that though he is in favour of a ban on cow slaughter, it should not be extended to other species of cattle.
Athwale further said that a blanket ban on slaughter of other cattle will have adverse impact on economy as well as the farmer community. 
"The cow is a sacred animal for Hindus. Therefore, cow slaughter law should be enforced strictly to preserve our culture. Having said this, if a ban is imposed on other cattle, our farmers may face shortage of funds, since they will not be able to trade their bullock or other animals," he said.
He also said that the government should take the responsibility for taking care of cows which are afflicted with diseases, if the farmers are not able to bear expenses of their treatment. 
"If a farmer is unable to fund for his cattle, the Government must introduce some provisions to take up responsibility of such cows so that the burden of the farmers is eased," he added.
He also condemned atrocities being committed against the members of the Dalit community in the name of cow protection. 
"If there is suspicion of cow slaughter taking place somewhere, the Police must be informed and they should carry out subsequent investigation. It is unjustified to mishandle the situation and cause harm to the Dalits without having enough information or proof regarding the matter," Athawale said.
Athawale praised Prime Minister Narendra Modi for making efforts to unify different sections of the society and said that communal harmony must be maintained for ensuring progress of the country.