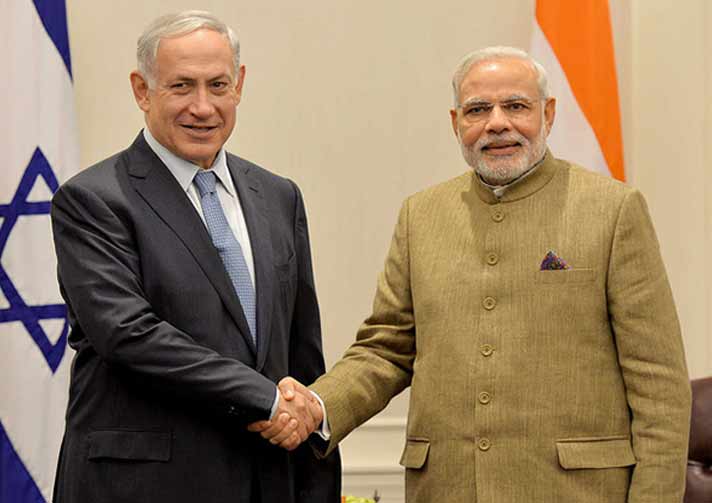 Indo-Israel ties were more "visible" after Prime Minister Narendra Modi came to power, Israel said today as it geared up for first prime ministerial visit from India, expected to take place in July.
Israeli Ambassador to India Daniel Carmon also said that New Delhi's policy of not having a "zero-sum game" while dealing with the Jewish nation and the Arab countries has sent a strong message.
"India's policy of not having a zero-sum game while dealing with Israel and the Arab nations has sent a positive message," Carmon said.
In an interview with PTI, Carmon said there is a lot of "visibility" in Indo-Israel relations after Modi took over as the Prime Minister in 2014 and the Jewish nation respects that change.
"The relations between India and Israel did not start in 2014, but what has changed is the visibility of things that we are doing together. What has changed is the very important and very much respected in Israel," Carmon said. 
The Israeli Ambassador also said that there may be a change in the declaration and policy of India after the Modi- led government came to power. 
The current NDA dispensation has been very open about its relations with Israel as compared to the Manmohan Singh government, which was cautious in openly flaunting India's ties with Israel. 
Carmon also strongly pitched for deeper cooperation in strategic ties, spread over wide-ranging sectors, including, defence, security, agriculture, education and culture. 
As India and Israel celebrate 25 years of their diplomatic relations this year, Modi is expected to visit the Middle Eastern country in July during which the two sides are expected to finalise pacts in key sectors. 
"In relation to the past, we are at the peak, but this is not the peak. The peak will never happen because we will continue to try for more and more and I think we are in a very good period of time. We are looking back at 25 years of relations we are celebrating. We are very satisfied with what we have achieved," he said. 
Carmon said Israel is fine with India having relations with it as well the Arab countries and noted that the scenario in the Middle East has changed. 
"Nowadays, things have changed in the Middle East and Israel has good relations with a few Arab countries. We (Israel and some Arab states) have joint-interests with many others. We see eye to eye on danger coming out of Iran," he said. 
He also asserted that Israel respects India's policy that this is not a zero-sum game and that it can have good relations with Israelis and good relations with the Arabs. 
"I have not heard too much protest from the Arabs (on this), which means there is coexistence. This is very important and positive message from India which is well accepted in Israel," Carmon said.
(With PTI inputs)