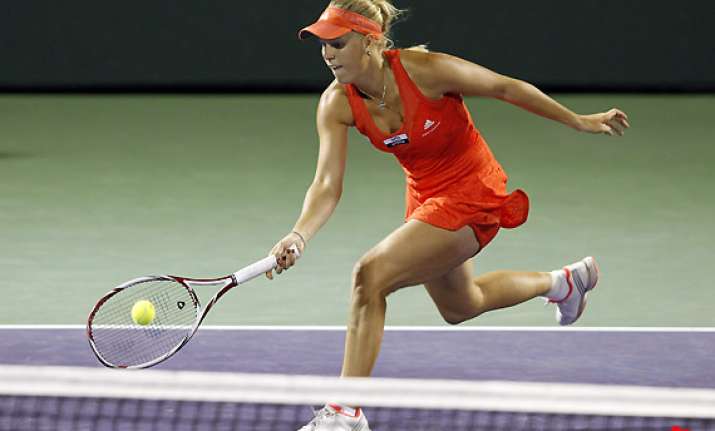 Florida, Mar 28:
Serena Williams' bid for a record sixth Key Biscayne title ended Tuesday night when she lost in the quarterfinals of the Sony Ericsson Open to former No. 1 Caroline Wozniacki, 6-4, 6-4.
"I made her run," Wozniacki said.
Wozniacki served well and was content to keep the ball in play from the baseline, using her retrieving skills to extend rallies until Williams would make a mistake. Williams hit 34 winners to 12 for Wozniacki, but also committed 36 unforced errors to the Dane's 13.
"Everyone I play always plays the match of the year," Williams said.
Williams, seeded 10th, was playing in her first tournament since January after being sidelined by a left ankle injury. She hasn't won a title since August.
"I probably played about 20 percent," Williams said. "I just made a tremendous amount of errors. There's no reason for that. I'm older and I shouldn't do that. There's no excuse. I've just got to stop that. It's silly."
Rafael Nadal swept five consecutive games midway through his match, propelling him to a 6-4, 6-4 win over Kei Nishikori to reach the quarterfinals.
The victory was by far Nadal's most taxing of the tournament, and he took a medical timeout late in the opening set for treatment of his troublesome left knee. Even so, he's one round closer to his first Key Biscayne title.
"I am not probably in perfect condition today with the left knee," he said. "But the important thing is to try to win as many matches as possible. For me this is an important tournament, and every victory has very, very big value for me, especially without being perfect."
Nadal, a three-time runner-up at Key Biscayne, lost the final last year to Novak Djokovic, and they could meet again Sunday. The top-ranked Djokovic reached the final eight by beating No. 17-seeded Richard Gasquet 7-5, 6-3.
No. 2 Maria Sharapova became the first semifinalist when she drubbed reigning French Open champion Li Na 6-3, 6-0. Sharapova had lost their previous four meetings.
"I just really wanted to change that," she said, "so I was extremely focused and, you know, looking forward to the match."
Like Nadal, Sharapova seeks her first Key Biscayne title. She lost the final in 2005, 2006 and last year.
Nadal has been bothered by his knee since Indian Wells, where he lost to Roger Federer in the semifinals two weeks ago. Nine games into his match against Nishikori, Nadal called a medical timeout and had a trainer tape his leg.
That's when the momentum swung. In the next game, Nadal took the opening set with a service break when Nishikori sailed an easy forehand long. The Spaniard broke again as he raced to a 3-love lead in the second set.
"At the end of the first set, I felt that I started to win my serves easier than him," Nadal said. "I had more the control of the game."
Nadal improved to 16-3 this year. He's seeking his first tournament title since the 2011 French Open. No. 4 Andy Murray, No. 5 David Ferrer and No. 6 Jo-Wilfried Tsonga also won in straight sets.
No. 8 Mardy Fish edged No. 12 Nicolas Almagro 6-3, 6-7 (2), 6-3. Fish was relegated to the grandstand court for the third consecutive match rather than the stadium, even though he's the top-ranked American man, but the slight didn't faze him.
Less than 24 hours after his upset win over Federer, Andy Roddick endured a drubbing against Juan Monaco, 7-5, 6-0.
Monaco, a patient baseliner seeded 21st, was unfazed by Roddick's big serve, and the match became a succession of long rallies. Roddick began to look weary as the match progressed and stumbled after several shots as the match slipped away.
For Roddick, the performance was a big comedown after he beat Federer for only the third time in 24 tries, temporarily silencing critics who say he should consider retirement.