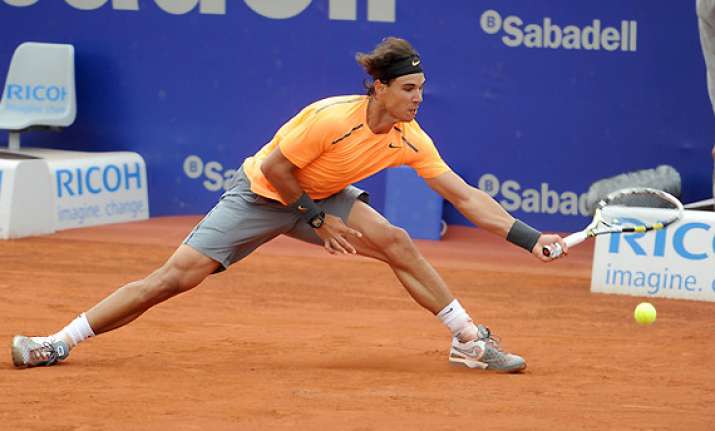 Spain, Apr 28:
Six-time champion Rafael Nadal thrashed Fernando Verdasco 6-0, 6-4 on Saturday to ease into the Barcelona Open final, where he will face fellow Spaniard David Ferrer for a fourth time.
A ruthless Nadal dominated from the start, winning 21 of 27 points to steal Verdasco's first three service games and set him on his way to his 33rd straight win at the competition.
In the other semifinal, Ferrer held off Milos Raonic's powerful serve for a 7-6 (2), 7-6 (5) victory to give him a shot at his fourth title of the year.
"Rafa is the best player clay-court player ever," said Ferrer. "He has beaten me three times in the finals here. I hope tomorrow is different."
Verdasco, who won here in 2010 when Nadal sat out the tournament he has otherwise dominated since 2005, barely offered resistance as the world's second-ranked player hit winner after winner.
Nadal ran off seven straight points to open the match, breaking Verdasco's first service game with an intimidating smash.
"I began the first set very strong, and getting the first break gave me a lot of confidence," Nadal said. "He also made some errors early on which helped me."
Verdasco dropped his second service game when his volley fell wide, and Nadal kept pressing, not dropping a point in the fourth game to race out to an insurmountable lead as light rain began to fall.
Down a set, Verdasco showed some fight and had a chance to break the favorite early, but Nadal won three straight points with strong serves to hold on.
But Verdasco faltered in the fifth game when after saving three break points he committed a costly double fault to fall behind for good at 3-2.
Nadal improved to 13-0 all time against Verdasco and predicted a close final.
"David is always tough. He is a rival you never want to face," Nadal said. "I wish him the best. Well... not for tomorrow, but for the rest of the season."
Raonic hit 15 aces against Ferrer, displaying the same massive serve that led to his upset of Andy Murray in the quarterfinals.
But the third-seeded Ferrer worked his Canadian opponent around the red-clay court with well placed ground strokes and proved the better finisher in the two tiebreakers.
"It was very difficult to beat him," Ferrer said. "We both had our chances. It was a question of winning or losing the key points."
Behind 3-1 in the second-set tiebreaker, the sixth-ranked Ferrer fought back and claimed the match in just over two hours with a superb return that clipped the sideline.
"I'm very happy to make my fourth final," Ferrer said. "I have a special relationship with this tournament. I hope I can fulfill my dream of finally winning here."