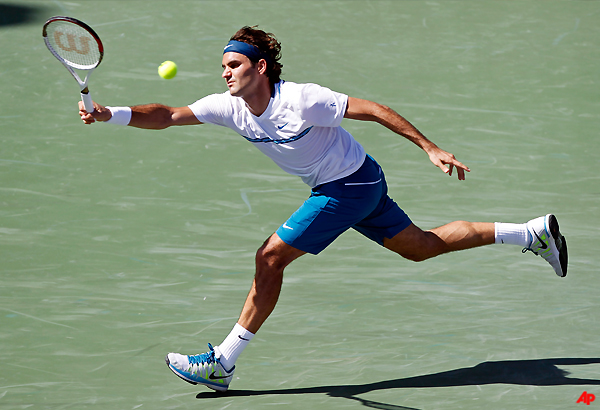 Key Biscayne (Florida), Mar 25: On the verge of victory, Roger Federer stopped playing when he thought a pivotal point had ended at the Sony Ericsson Open on Saturday.
He mistook a fan's shout for a linesman's call, which cost him the game. Play continued for another 25 minutes before Federer finally closed out his opening match by beating 19-year-old American Ryan Harrison 6-2, 7-6 (3).
"I'd like to make it a bit more difficult for my opponent," Federer said. "I was just completely confused about the whole situation."
Serena Williams, Maria Sharapova, Novak Djokovic and Andy Roddick won in more straightforward fashion, but two-time champion Kim Clijsters was eliminated.
Federer led 5-2 in the second set and had a chance to finish in less than an hour until he lost two fluky points that extended the match.
Serving at 5-3, Federer blew an easy overhead to fall behind 15-30. One point later, facing break point for the only time in the match, Federer hit a forehand that landed on the baseline.
A fan hollered "Out!" and Federer stopped. By the time he realized the ball was still in play, Harrison had won the point — and the game.
"It completely threw me off," Federer said. "It's the first time it has ever happened in my career. I was like, 'That's it? That's a break point? This is how this is going to happen?'"
Harrison took advantage of the break, although he said he felt bad about it.
"Obviously I want to win every point the right way, and not because something happened," the teenager said. "Unfortunately somebody interrupted play."
After Harrison held twice to force the tiebreaker, Federer hit a spectacular lunging lob to turn a scrambling exchange his way for a 4-2 lead. Four points later, he closed out his 40th victory in the past 42 matches.
"I felt like I had to win the match like three times at the end, so I was relieved to come through," he said.
Federer has a 77-match winning streak against players outside the top 20.
The No. 3-seeded Federer's opponent in the third round will be another American, familiar foil Roddick. They've played 23 times and Roddick has won only twice, although he did beat Federer at Key Biscayne in 2008.
"There's no getting around the fact that he has been the biggest obstacle in my career," Roddick said. "His game matches up well against mine."
Roddick lost only five points on his first serve, never faced a break point and beat Gilles Muller of Luxembourg 6-3, 6-2. Roddick is trying to improve a ranking that has dropped to 34th, the lowest he has been since 2001.
The top-seeded Djokovic, who won the tournament in 2007 and 2011, improved to 7-0 against Marco Baghdatis by winning 6-4, 6-4.
Williams started early and finished fast. Walking onto the stadium court at 11 a.m., Williams dominated with her serve, played consistently from the baseline and moved into the fourth round by beating Roberta Vinci 6-2, 6-1.
Williams was done shortly after noon.
"I'm not a morning person," she said. "I actually hate morning matches, but I always do my best at 11 o'clock matches."
Williams won most of the short points and a succession of long rallies as well. She hit 25 winners while committing 20 unforced errors.
Seeded 10th, Williams is making her return to tournament tennis after a two-month absence because of a left ankle injury. At No. 20, Vinci is the highest-ranked player Williams has beaten this year.
Williams is seeking her first tournament championship since August, and she's bidding for a record sixth title at Key Biscayne.
"I need trophies," she said. "I want to add more and to do more. There are records to break. So I'll do it. I've just got to believe it. I do believe it."
Sharapova, seeded second, beat American qualifier Sloane Stephens 6-4, 6-2. Clijsters, coming back from an ankle injury, lost to Belgian compatriot Yanina Wickmayer 6-4, 7-6 (5).
Former No. 1 Caroline Wozniacki beat No. 29-seeded Petra Cetkovska 6-3, 7-5. Reigning French Open champion Li Na defeated Iveta Benesova 7-5, 6-2.
No. 8 Mardy Fish was among 15 seeded men to advance. One lost: No. 15 Feliciano Lopez was beaten by fellow Spaniard Albert Ramos, 6-4, 7-6 (5).