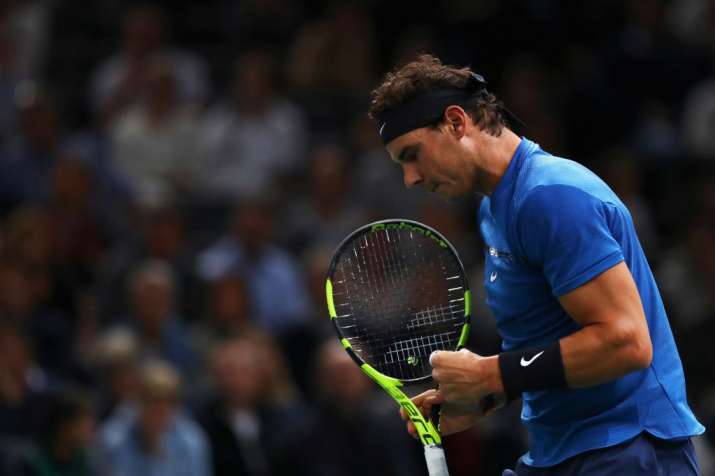 Rafael Nadal will finish the year as the top-ranked player for the fourth time. The 31-year-old Spaniard assured himself the No. 1 ranking by beating Hyeon Chung 7-5, 6-3 Wednesday in the second round of the Paris Masters.
The 16-time Grand Slam winner had not finished the year at the top since 2013, with Novak Djokovic and Andy Murray doing so after that.
"One year ago, for sure I never dreamed about being No. 1 again at the end of the season," said Nadal, who missed large parts of 2016 because of a wrist injury. "It has been an amazing year."
Nadal's comeback from injury, loss of form and confidence, has been remarkable. He reached three Grand Slam finals this year, losing to Roger Federer at the Australian Open and winning a 10th French Open title before clinching the U.S. Open for the third time.
"It was impossible for me to think about (being No. 1) coming back from a tough period without playing, and with so many injuries in the last couple of years," said Nadal, who also finished as No. 1 in '08 and '10. "It means a lot. After almost 10 years since the first time."
Nadal is also the oldest, testimony to his relentless determination.
"It's about the passion for what you are doing. It's about the mentality of waking up every morning with the right motivation to go on court and improve something. That's the winning mentality, no?" he replied, when asked what drives him. "The passion to improve something and practice every day with the right attitude to try to make that happen, not everybody is able to do it."
The only downside to his remarkable season has been always losing to Federer, who leads the ATP Tour with seven titles this year.
Federer has beaten Nadal four consecutive times not dropping a set in three of them and the 19-time Grand Slam champion was in outside contention for the No. 1 ranking before pulling out of Paris to focus on the season-ending ATP Finals in London next week.
Nadal was not at his best against the 21-year-old Chung, but was rarely tested.
Chung broke Nadal back in the ninth game of the first set and held for 5-5. But Nadal then broke Chung to love to clinch the first set.
Chung saved four break points in a long fourth game of the second set lasting 12 minutes, holding for 2-2. But Nadal accelerated away after that and served out the victory on his second match point when Chung hit a forehand long.
Nadal, who is tied for a record 30 Masters titles with Djokovic, has never won the tournament in Paris. He will next face Pablo Cuevas of Uruguay.
Also, fourth-seeded Alexander Zverev lost to Robin Haase 3-6, 6-2, 6-2, and No. 9 John Isner beat Diego Schwartzman 7-6 (2), 6-7 (11), 6-3.
Haase next plays No. 13 Juan Martin del Potro, who eased past Joao Sousa of Portugal 6-2, 6-2. The big-serving Argentine needs to win in Paris to have a chance of reaching the Finals in London.
After saving three match points in the tiebreaker, Schwartzman leveled the match when Isner made a forehand error.
Isner, who lost last year's final to Murray, next plays either No. 6 Grigor Dimitrov or Richard Gasquet.
Frenchman Lucas Pouille kept alive his slim chances of qualifying for London with a 6-3, 6-4 win against Feliciano Lopez, but No. 12 Kevin Anderson's chances took a dent after a 5-7, 6-4, 7-5 loss to Spaniard Fernando Verdasco.