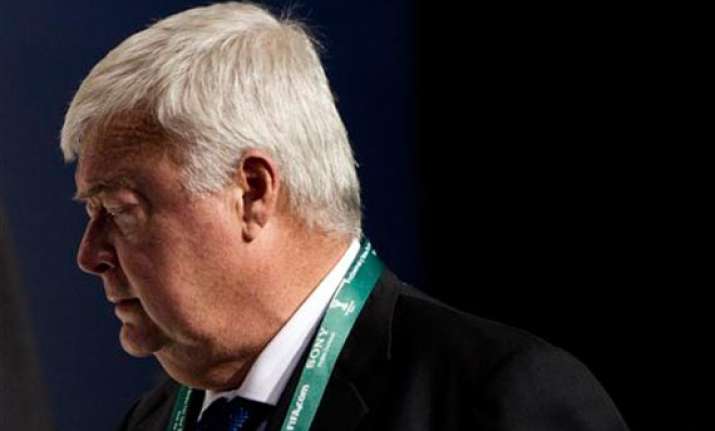 Sao Paulo, Mar 20: Ricardo Teixeira, the former head of Brazilian football, resigned from FIFA's executive committee on Monday citing "personal reasons."
Teixeira resigned from the post he held since 1994 in a letter sent to the South American football confederation (CONMEBOL), which elected him to the committee.
"I worked with determination to defend the interests of football in our continent and to elevate football in the international context," he said in the letter.
Teixeira didn't elaborate on the personal reasons that led to his resignation.
The announcement comes exactly a week after he stepped down as president of the Brazilian federation and the 2014 World Cup organizing committee, citing unspecified health problems.
The resignation from the FIFA committee completes Teixeira's removal from the football scene and may help the Brazilian official distance himself from allegations he took kickbacks from former FIFA marketing partner ISL in the 1990s.
FIFA President Sepp Blatter promised to release the documents that could allegedly implicate Teixeira and other FIFA officials in the case, but the publication was delayed recently because of legal measures.
The BBC reported that the other Brazilian official allegedly involved in the ISL case is Teixeira's former father-in-law, Joao Havelange, who late last year resigned from the International Olympic Committee citing undisclosed health reasons and avoided possible suspension for allegedly taking the kickbacks from World Cup marketing deals while FIFA president.
Teixeira seemed to have Blatter's support and at one point was touted as his possible successor, but their relationship weakened, especially after the FIFA president said he would allow the release of the ISL documents as part of a wide-ranging effort to add transparency to the entity.
The 64-year-old Teixeira was also accused of unethical behavior by a former chairman of England's Football Association, David Triesman, who said during a British parliamentary inquiry that Teixeira and other FIFA executive committee members engaged in improper conduct during bidding for the 2018 World Cup.
FIFA cleared the Brazilian, who said the allegations stemmed from England's disappointment at failing to win hosting rights for the World Cup.
Teixeira was head of the Brazilian federation for 23 years, earning praise for revamping the entity but receiving criticism for allegations of irregularities in his administration.
Teixeira was twice investigated by Brazil's Congress, including once over a contract signed with Nike, but was never convicted of any wrongdoing.