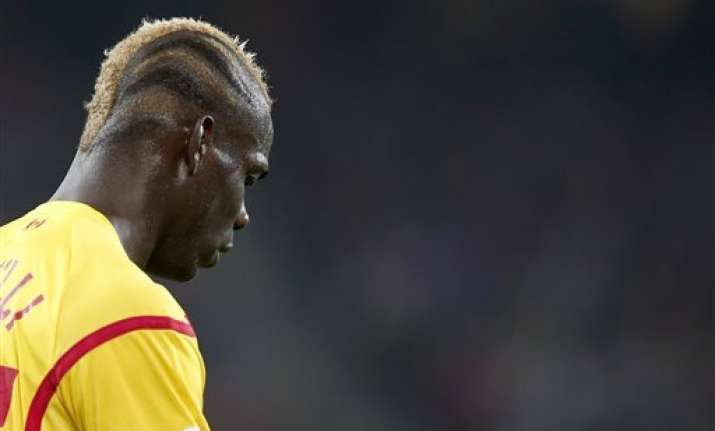 Florence, Italy: Italy coach Antonio Conte has played down his exclusion of Liverpool forward Mario Balotelli for upcoming European Championship qualifying matches.
   
Since transferring to Liverpool from AC Milan after the World Cup, Balotelli has yet to score in five appearances in the Premier League and was also left off last month's Italy squad.
   
"He has started on a new path, it's not easy," Conte said. "Let's give him time to integrate himself in this new league.
   
"We're following him as we follow all the players who play abroad. I make call-ups, not exclusions, which are two very different things."
   
Southampton striker Graziano Pelle was included for the first time after scoring four goals in seven Premier League appearances since his summer move from Feyenoord.
   
"Graziano represents that which I've said from the very first day -- meritocracy," Conte said. "He's a footballer who has scored 50 goals in the past two years. Now he's in a league which on paper is more competitive than the Dutch one and he is becoming a key player."
   
Tension remained high in Italy following Juventus' controversial 3-2 victory over Serie A rival Roma on Sunday night.
   
There are seven Juventus players in the Italy squad -- including Andrea Pirlo, who replaced the injured Giacomo Bonaventura -- and two Roma ones, but Conte does not expect the fallout to spill over into the Azzurri camp.
   
"When we come into the national side we have to put the league to one side," Conte said. "During the battle it is right that everyone defends their own flag, but the moment you come into the national team you are back to being teammates and friends in the same squad, with the same unity.
   
"It's always been like that, it's normal that when you play a match you put friendship to one side. But now everyone has to be united under one sole flag."
   
Italy hosts Azerbaijan in Palermo on Friday, then makes a short trip to visit Malta three days later.
   
The Azzurri won 2-0 in Norway in their opening qualifying match, days after beating the Netherlands by the same score in Conte's first match in charge.
   
"My mission is to take the national team to the Euros, playing a beautiful and attacking style of football, with a squad that always wants to play their game regardless of the opponent," Conte added. "A winning mentality."