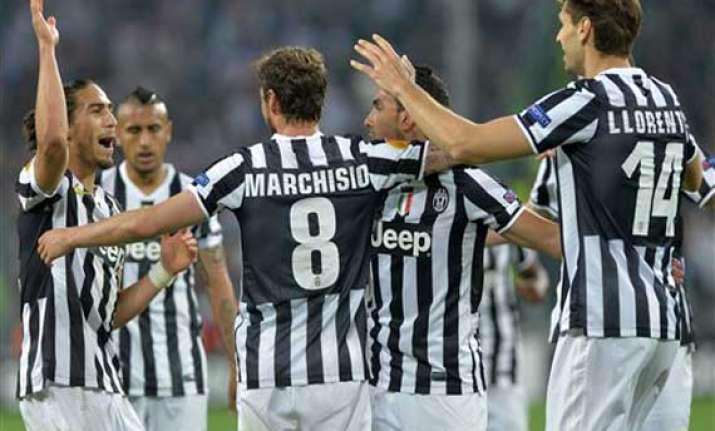 Milan: Given the statistics, two players should have a chance to make their international breakthrough by lighting up Italy's attack at this summer's World Cup.
One is the top scorer in the Italian league, the other has netted a goal every 85 minutes of play.   
However, neither Ciro Immobile nor Mattia Destro are even guaranteed a spot on Italy's squad for Brazil as coach Cesare Prandelli tries to find a balance between talented youngsters and experienced veterans. And it could be that one gets a spot at the expense of the other.   
For most of the past two years since Italy's humbling 4-0 loss to Spain in the European Championship final, talk has been of whether a surprise recall for one of the Azzurri greats could be on the cards.   
Prandelli has dodged those questions with calm and poise, and only recently confirmed that World Cup winners Francesco Totti and Luca Toni are unlikely to have another chance of winning football's greatest prize "unless there are emergencies."   
So attention has now shifted to the other end of the scale -- to the future of Italy's attack. Roma's Destro has been in stunning form, while Immobile is on the verge of a record-breaking season for Torino along with strike partner Alessio Cerci.   
Destro only started his injury-delayed season in December but the 23-year-old appeared to be a near certainty to make the squad after a hat trick against Cagliari two weeks ago took his tally to 13 goals in 18 matches.   
It was Destro's first hat trick in Serie A -- although he had achieved that feat twice for the Italian Under-19 side.   
"Let's hope I make it. I try always to give my best for Roma, then we'll see," Destro said after the match. "I have to continue like this, normally performances always have a consequence for the national side."   
However, the match that should have secured his ticket to Brazil could also be the one that leads to Destro being left at home after he was subsequently banned for three matches for punching Cagliari defender Davide Astori.   
The incident meant he fell afoul of Prandelli's strict code of ethics and Destro was left out of the group of 42 players called up for World Cup fitness tests last week.   
Two players who were present at Italy's Coverciano training complex for the two-day camp were Immobile and Cerci.   
The duo have scored 33 goals between them for Torino, one less than the record set by Paolo Pulici and Francesco Graziani, who fired Torino to the Italian title in 1976.   
Immobile has made just one appearance for Italy, in a friendly match against Spain last month. However, the 24-year-old has scored 20 goals for Torino this term, two more than Juventus star Carlos Tevez.   
"He is a nice surprise," Prandelli said. "Especially because he had a difficult time last year, but he has great character and the right DNA of a forward and he didn't let negative experiences beat him.   
"I remember the negative comments last year from so many critics who said he wasn't ready for Serie A, while now they say he is first choice for the World Cup. We need to leave him in peace, he is doing well and then we will make our choices later, and they will be justified."   
Strike partner Cerci is now a regular in the Italy squad since making his debut against Brazil more than a year ago, and the 26-year-old has 10 appearances under his belt.   
His obvious understanding with Immobile may see the latter preferred to Destro but, with Prandelli still sweating on the fitness of star forward Giuseppe Rossi and doubts over whether the veteran Antonio Cassano can withstand the heat and humidity of the Amazon, both players could be given the chance to shine this summer.   
"We `provoked' the young players and the response was positive," Prandelli said. "They silence the critics and showed their worth. It's not a given that both (Destro and Immobile) can't come to Brazil."   
Destro is not leaving anything to chance and has scheduled his wedding date and honeymoon for after the World Cup, while football could once again delay celebrations in the Immobile household.   
Immobile had to reschedule his wedding last year when he was called up for the Under-21 European Championship -- where he scored a goal in the 4-2 loss to Spain in the final.   
The forward is set to marry Jessica Melena at the end of May but their honeymoon will again have to be rescheduled if, as looks likely, he goes to Brazil instead.