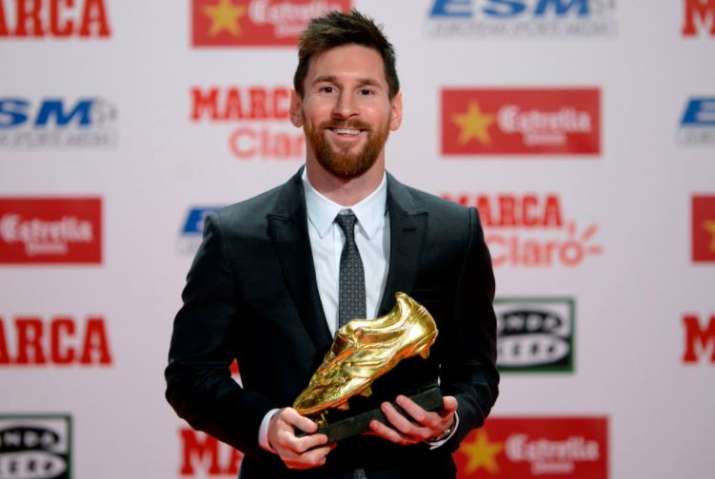 Argentina and FC Barcelona forward Lionel Messi received his fourth Golden Shoe award on Friday for leading all of Europe's leagues in scoring last season. It was the fourth time the Barcelona forward has received the honour, drawing him even with Real Madrid rival Cristiano Ronaldo as the award record-holders. The five-time Ballon d'Or winner has been on a rampage as he netted in 37 goals in the Spanish League, beating Dutch striker Bas Dost who managed to impressively score 34 goals in the Portuguese league.
The 30-year-old Messi also led Europe's league in scoring in 2009-10 (34), 2022-12 (50 goals) and 2012-13 (46 goals).
Messi was presented with the trophy by teammate Luis Suarez, who won the award in 2015-16 with 40. Andres Iniesta and Sergio Busquets also attended the ceremony in Barcelona.
Messi thanked his teammates for helping him score so many goals, while also saying that he enjoys playing more than ever, 13 years since his debut with Barcelona's first team.
"I have never considered myself a forward. I have been lucky enough to score goals," Messi said. "I have grown both on and off the pitch. I keep improving and adding things to my game, and I enjoy playing more and more."
Messi, Ronaldo, and Suarez have divvied up the prize for the past nine years.
The only time a non-Spanish league player won the Golden Shoe in the last decade was when Suarez shared the prize with Ronaldo while playing for Liverpool in 2013-14.
The Golden Shoe is awarded by European Sports Media, an association of European sports newspaper and magazines.
The football fans now eagerly await the 2017 Ballon d'Or awards which will happen on December 8.
(With AP Inputs)