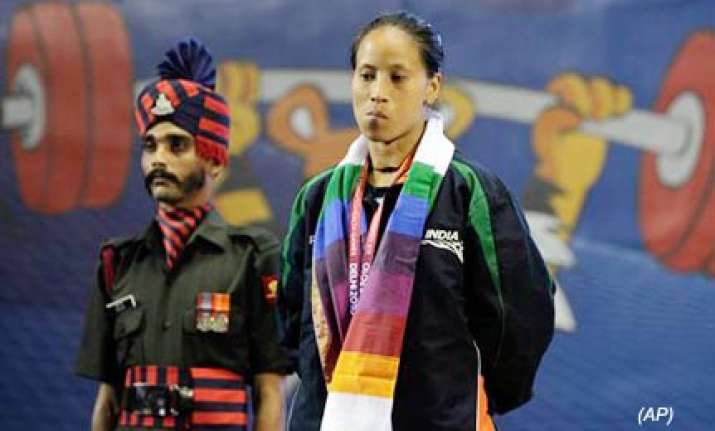 New Delhi, Oct 4: Weightlifting continued to be a happy hunting ground for India in the Commonwealth Games with men lifters Sukhen Dey and Srinivasa Rao winning silver and bronze medals respectively in 56kg category, after Soniya Chanu and Sandhya Devi Rani's identical feats earlier today.
Dey gave a stiff competition to Games record holder Hamizan Amirul Ibrahim of Malaysia before settling for a silver at the Jawaharlal Nehru Stadium five kgs short of the winner's effort. Ibrahim cleared 257kg and Rao lifted 248kg for the bronze medal.
Ibrahim, in the process, claimed the first gold medal for his country while also setting a new Games record of 116kg in the snatch, surpassing his personal best of 115. He lifted 141 in clean and jerk.
The 21-year-old Dey, however, was the surprise element in the event with his career best of 112 in snatch and 140 in clean and jerk.
Although Dey fouled his third attempt in clean and jerk, favourite Ibrahim held his nerve after failing twice to come out trumps in the end.
Earlier, India opened their medal account in the Games when women lifters Chanu bagged a silver medal and Sandhya clinched a bronze in the women's 48 kg class.
Chanu cleared 167 kg to stand second in the event behind Nigerian woman Augustina Nwaokolo who hoisted 175 kg to win the contest. She also created a new Games record. Sandhya took the bronze with a total clearance of 165 kg.
Chanu and Nwaokolo were tied with the same clearance of 94 kg in the snatch competition but the latter, who weighed marginally less than the Indian woman, settled the issue in the clean and jerk category by clearing 8 kgs more. PTI