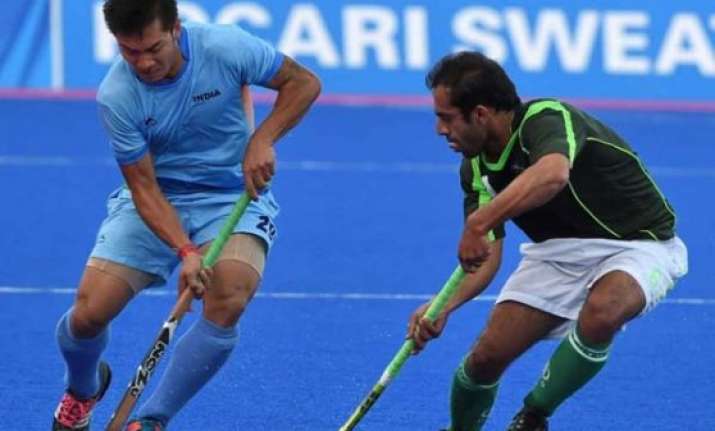 Incheon: Intricacies of South Asian style of hockey will be on full view here on Thursday when a resurgent India take on bitter foes Pakistan in the high-octane men's Asian Games gold medal match, with a direct entry into the 2016 Rio Olympics up for grabs for the winners.
The match, similar to the one that was witnessed in the league phase which India lost 1-2 to Pakistan, promises severe intensity and no-hold-barred rivalry in front of vociferous flag-waving supporters of both the countries, for whom this is going to be the high point of the fortnight-long Games.
India and Pakistan had last played in the men's hockey final at the quadrennial continental games way back in 1982 at New Delhi's Dhyan Chand Stadium when the latter emerged with a shock 7-1 verdict after which the then goalkeeper Mir Ranjan Negi and the panicky deep defense was castigated.
The two South Asian giants have not met in the final of these Games after that wintry day on December 1 following the emergence of South Korea as a big force.
Thursday's game would only be India and Pakistan's eighth summit clash at the Asian Games out of which India have won only twice, the last of the triumphs coming way back in 1966 Bangkok Games.
It is going to be a nerve-wracking contest between the two arch-rivals and the team which plays better under severe pressure is expected to lift the coveted gold.
Once only after 1982, had Pakistan and India took the 1-2 positions at these Games, in 1990 at Beijing when the tournament was played on a round-robin basis. Pakistan emerged with the gold in that edition after topping the table with a 3-2 verdict over India.
India are seeking to clinch the gold medal that they last grabbed in 1998 at Bangkok when the mercurial Dhanraj Pillay led the team from the front.