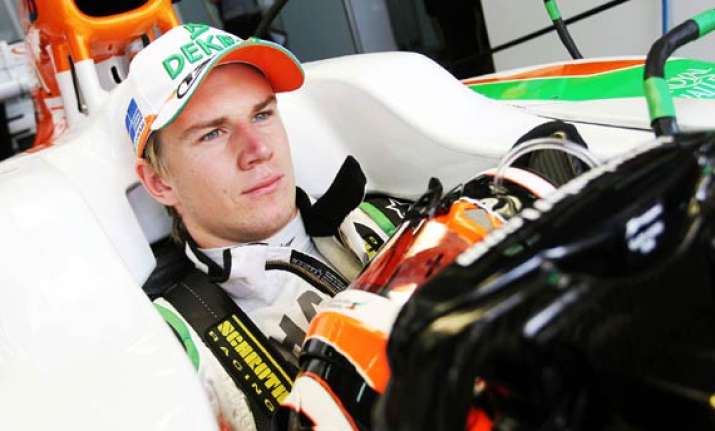 Shanghai:  Placed second in the constructors' standings, the Force India will start eighth and 16th in Sunday's Formula 1 Chinese Grand Prix at the Shanghai International Circuit here.
German driver Nico Hülkenberg put his VJM07 in eighth after a wet weather qualifying session Saturday as teammate Sergio Perez, who achieved the team's second ever podium in the last race at Bahrain, will start 16th.
Mercedes driver Lewis Hamilton put together a stonker of a lap to earn his third pole of the season in four qualifying outings this year. The Red Bulls of Daniel Ricciardo and defending champion Sebastian Vettel will be vying for the top spot as they qualified second and third, respectively.
Hulkenberg, who is third in the drivers' standings behind the two Mercedes' Nico Rosberg and Hamilton, said he is happy to start from the fourth row on the grid.
"A top-10 result is always what we are aiming for in qualifying. From that perspective, I am happy to be eighth. It was very wet out there. I was struggling a bit with the car balance and under-braking. But all in all we're in a good starting position," said the German.
"Tomorrow's weather should improve. We ran in the dry yesterday so we know what to expect and will adapt to any condition. It will be interesting to see the tyre development through the race because graining is a classic feature of this track. I'm confident we can work around it and make the tyres last."
Mexican driver Perez was disappointed with the qualifying result but is confident of bouncing back on race day.
"It was not an easy session and the truth is that I've been struggling with the car balance all weekend. The wet weather exaggerated those issues and it leaves me P16 and feeling a bit disappointed," said Perez, who is ninth in the drivers' championship with 16 points.
"I found it hard to generate enough temperature in my tyres and was sliding around in each corner and especially under-braking. The weather is expected to be better tomorrow so I am sure we can recover some ground and move up into the fight for points."