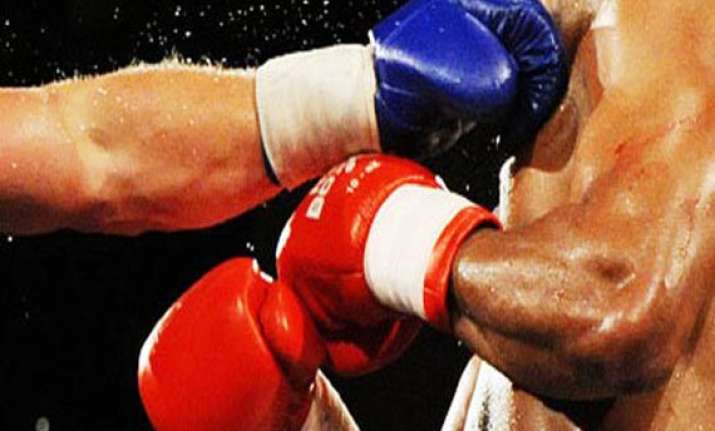 New Delhi, May 21: A morale-boosting medal haul was secured but Indian boxers, who returned on Tuesday from tournaments in Russia and Cyprus, missed out on the vital experience of competing without headguards as neither of the two tournaments introduced the latest International Boxing Association (AIBA) innovation as was expected.
The boxers, 20 in all, returned to the country today after competing in Khabarovsk International Competition in Khabarovsk, Russia and Invitation FXTM International Limassol Boxing Cup in Cyprus.
While the team from Russia came back with two silver and three bronze medals, the contingent to Cyprus was even more successful with 10 medals (four gold, three silver and three bronze medals).
Without doubt, the trips were morale-boosting for the boxers, who cannot compete under the Indian flag because of the international suspension, but they were looking for more than just medals.
"We were hoping that the new changes would be applied at the event but that didn't happen. It would have been very good for us to get some competitive experience without headguards," said a boxer who fetched a bronze medal at the tourney in Russia.
The headguards will be done away with in the coming World Championships in October.
"We do train without headguards in the national camp. Even some trials have been conducted without headguards but to compete without protective gear internationally is an altogether different ball game," said a coach.
Speaking of life without headguards for boxers, a coach said the role of doctors and physios would be more significant from now on.
"We would probably need as many doctors and physios as the coaches that are there in the camp. The risk of injury would be up by 100 per cent because of this change," said another boxer.
"In fact, I think we need to have a full-fledged rehabilitation centre to take care of the boxers. Their fitness needs to be monitored even more closely now," said a coach.
The contingent that went to Cyprus ended up bagging the overall Championship but the irony of the situation was that the team could not even celebrate the triumph despite being the first from India to achieve such a feat in Europe, because of the international suspension.
In Cyprus, Madan Lal (52kg), V. Durga Rao (56kg), Mandeep Jangra (69kg) and Praveen Kumar (ᄧkg) won gold while Manoj Kumar (64kg), Dinesh Kumar (91kg) and Sukhdeep Singh (75kg) had to be satisfied with silver medals. Anil Kumar (60kg), Jagroop Singh (81kg) and L Devendro Singh (49kg) had crashed out in the semifinals to end up with a bronze each.
Thokchom Nanao Singh (49kg) and Dilbagh Singh (69kg) had to content with silver medals after losing their final bouts.
Sunil Kumar (52kg), Shiva Thapa (56kg) bagged the bronze medals in Russia.