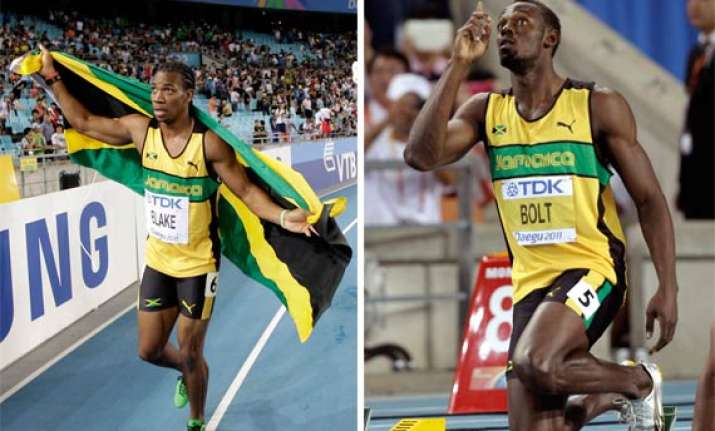 Daegu, August 28:  Yohan Blake grabbed the chance of a lifetime when he stormed to the 100 metres world title on Sunday after fellow-Jamaican superstar Usain Bolt sensationally committed a false start and was disqualified.

Blake, 21, won his first major title in 9.92 seconds from Walter Dix of the United States (10.08) and the 2003 champion Kim Collins of St Kitts and Nevis (10.09).

Bolt is the world record holder and three-times champion from the 2008 and 2009 Olympics, and the all-out favourite to win gold on Sunday en route to another treble.

But he covered his face in his shirt before tearing it off after roaring out of the blocks, fully aware that he had jumped the gun in arguably the biggest shock in athletics history since pole vault world record holder Sergey Bubka no-heighted at the Barcelona 1992 Olympics.

No false starts are allowed in track events since rules were revised a few years ago. Bolt's reaction time was given at minus 0.104 seconds.

As Bolt walked off the track a stunned silence befell the crowd and it may have left some rivals puzzled as well that Bolt is human after all.

The talented Blake, tipped the previous day by former champ Maurice Greene to beat Bolt for gold, made the most of the new scenario.

Blake roared out of the blocks into an early lead and never looked back en route to his biggest career success to date and another golden moment for the powerful Jamaican team.

The four fastest men of the year, Jamaicans Asafa Powell and Steve Mullings, and Americans Tyson Gay and Michael Rodgers, were not competing in Daegu for injury and doping suspension reasons.

Former European champion Dwain Chambers of Britain shared Bolt's fate in his semifinal and American ex-champion Justin Gatlin, back from a four-year doping ban, failed to get beyond the semis.