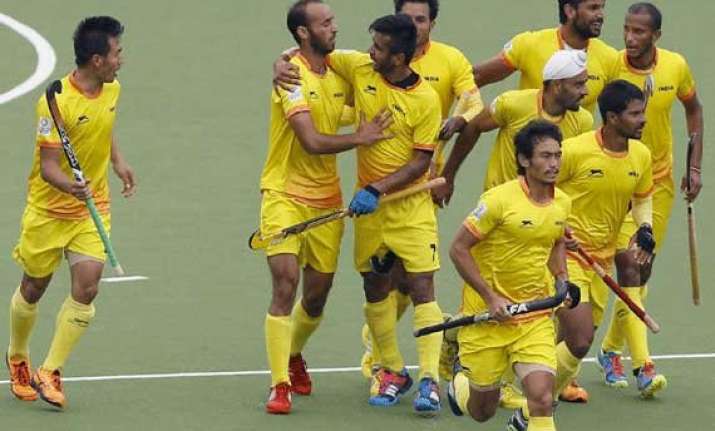 Incheon: India, bidding to regain the men's hockey gold after 16 years and gain a direct entry into the 2016 Rio Olympics, are bracing up for their toughest task as they face arch-foes Pakistan in a high-octane clash at the 17th Asian Games here on Thursday.
The crunch match between two-time winners India and eight-time gold medallists Pakistan, who are the title holders in men's Pool A, is the highlight of the league phase of the tournament and the team that plays well under severe pressure should win at the Seonhak Hockey Stadium.
Both India and Pakistan have scored two victories apiece though the latter have scored an extra goal to stand atop the pool standings.
India opened their tournament with a thumping 8-0 win over Sri Lanka, a team that was competing at the Asian Games after the 1982 New Delhi edition, and followed it up with another heavy 7-0 victory over minnows Oman.
Rupinder Pal Singh has scored four penalty corner goals and one penalty stroke award so far for India and his expertise in the set pieces, as well as that of V R Raghunath, would be essential tomorrow.
The forward line has shown plenty of verve and thrust against weak opponents and should sustain it against a team like Pakistan which too has an effective forward line as seen in the 14-0 rout of Sri Lanka after they struggled to a 2-0 win over China in their lung opener.
Indian coach M K Kaushik said that the team is very confident ahead of its high-profile match against Pakistan, which has more often than not pulled the rug from under the feet of the country in past Asian Games.
"The team is very confident but any match against Pakistan is always a big contest. Everything has gone well so far. The team has made progress from the Commonwealth Games (where it took silver behind Australia). We will treat it as just another match and not put pressure on ourselves," said the former India player on the eve of the game.
Pakistan's main scorer has been their penalty corner expert, Imran Mohammed, who has notched up four set piece goals in the two games that his team has played.
In the last Games, India had beaten Pakistan 3-2 in the league phase. Pakistan then went on to edge South Korea in extra time in the semi final to enter the title clash where they vanquished Malaysia, who shocked India 4-3 in the other semi final.