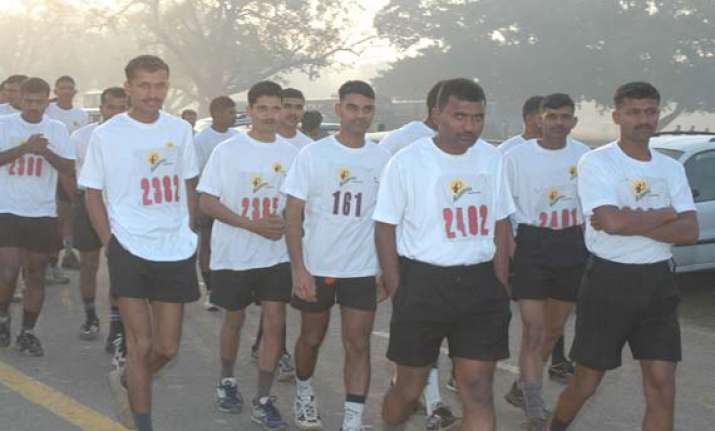 New Delhi, Feb 17: Arvind Kumar Yadav won the Mawana Sugars Full Marathon in the men's category while Nilam Maruti Kadam was the fastest in the women's category here Sunday.
Yadav came racing through in two hours 21 minutes and 44 seconds while Nilam completed the course in three hours one minute and two seconds. Both winners took home a prize money of Rs.2.5 lakh.
In the male veteran category B.L. Bosco clocked three hours 11 minutes and 34 seconds to take first position.
Meanwhile, in the half-marathon Vishram Meena came first in the male category, clocking an hour six minutes and 31 seconds.
Kiran Tiwari was the top female runner, finishing in an hour 20 minute and 36 seconds.
"I had the belief that I would win the gold medal after finishing second last year. Now my aim is to do well in the next Commonwealth Games," said Arvind Kumar Yadav, who is coached by Dronacharya awardee Srijesh Bhatia.
"Earlier, I was going to take part in the half-marathon but decided only last night to run the full one. I didn't at all expect to win the race so I am very happy. I worked very hard for this. I run 25 km every morning and 12 km in the evening," said an elated Nilam.
This year the marathon drew over 12,500 entries from Delhi Police, the Indian Army, Air Force and para-military forces, corporates, colleges etc.